Verboticism: Ambimesstrous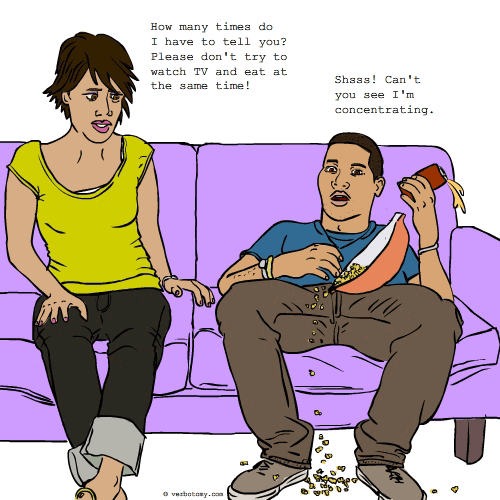 DEFINITION: n. A person who gets completely disoriented whenever they try to do more that one thing at a time. v. To make a big mess because you are trying to do too many things at once.
Already Voted
Vote not counted. We have already counted two anonymous votes from your network. If you haven't voted yet, you can login and then we will count your vote.
---
Ambimesstrous
You still have one vote left...
Created by: rikboyee
Pronunciation: jug-ul-putz
Sentence: Juggleputz wasn't a clever word but it did seem to sum things up and i was trying to make dinner and look after the kids while verbotomizing, so if i spent too long trying to think of a cleverer word i was bound to make a complete juggleputz of myself.
Etymology: juggle, putz
----------------------------
COMMENTS:
how truly funny and realistic, plus nice to see a sentence from you, backing up your great word(s) - DrWebster111, 2009-05-13: 19:52:00
Good Job! Keep up the sentences :) It's 11 points to complete all areas! You got my vote! - abrakadeborah, 2009-05-14: 11:14:00
----------------------------
Created by: griffiegrrl
Pronunciation: Clum-see-task-ing
Sentence: "George made a big mess Clumsitasking by changing a diaper while talking on the phone and watching the evening news."
Etymology: Clumsy - Tasking (akin to Multitasking)
Created by: BeauKnows
Pronunciation: Complex-Tro-fee
Sentence:
Etymology: Complex:Composed of many interconnected parts. Catastrophe:A sudden and widespread disaster.
Created by: wizzbritt
Pronunciation: Mul-tee-fay-ul
Sentence: I tried to brush my teeth while feeding the baby and jogging on the treadmill but ended up multi failing.
Etymology: Multi: more than one Fail: be unsucessful
Created by: mweinmann
Pronunciation: u - nee - lim - it - ted
Sentence: When it came to everyday life, Maurice was unilimited. If he was driving, having a conversation might mean that he would run someone over who was crossing the street. As they say, he couldn't "walk and chew gum" at the same time....
Etymology: uni (prefix meaning one), limited (circumscribed: subject to limits or subjected to limits) putting the uni in unlimited completely changes its meaning!
----------------------------
COMMENTS:
Like it - Nosila, 2009-05-13: 19:19:00
----------------------------
Created by: libertybelle
Pronunciation: mull-tee-tsk (tongue clicking sound)
Sentence: The sever car pile-up on Route 287 was the direct result of Gary's attempts to multi-tsk. I mean driving and singing along with the radio is one thing. Driving, singing and drinking coffee is another, but Gary was driving, drinking coffee, sending a text message, shaving and reading the paper all at the same time. Tsk tsk, Gary.
Etymology: multi-task + tsk tsk tsk - tonge clicking noise synonamous with "shame on you"
----------------------------
COMMENTS:
hehe - galwaywegian, 2009-05-13: 12:27:00
I hope Gary has learned his lesson! good word - splendiction, 2009-05-13: 22:51:00
----------------------------
Created by: abrakadeborah
Pronunciation: Pig-sty-bunk-ist
Sentence: Sallynag Sunkist knew all too quickly when she married Alberto, he was a pigstybunkist. No matter how many times she nagged...she couldn't change the fact Alberto was so slack. Try as she might to be his Mother he would ignore her. He said "listen here my dear Sallynag, if you don't like the way I am...then pack your bags and leave my pigpen...I've already have a Mother and I do not need another!"
Etymology: Pigsty:(Slang) A dirty,very untidy place,very messy! Bunk: (slang) meaning absurd,ridiculous,something totally stupid. Bunkist: A person that is absurd and ridiculous. Pigstybunkist: A person that is sloppy and untidy and a ridiculous slob.
Voted For! | Comments and Points
Created by: artr
Pronunciation: pyoōnētaskr
Sentence: Julia had to work last Saturday so she asked John to take care or fixing dinner. Knowing that he had little experience in the kitchen, she detailed everything he needed to do. He followed her instructions to the letter. He seared and cooked the steaks, prepared the mashed potatoes and vegetables. He even heated an apple pie for dessert. Unfortunately, John is not only a uni-tasker he is a punitasker. Not being able to manage the details and timing involved in getting it all done at the same time he did them in sequence. First he cooked the meat, then the vegetables and so on. After each step he would add the component to a plate and put it in the warmer oven. By the time Julia got home the steaks had the same consistency as the china. That's when John displayed his one real talent. He placed an order with the local Chinese restaurant. John's cooking didn't go completely to waste. The baby carrots he cooked worked perfectly as toothpicks.
Etymology: puny (small and weak) + task (a piece of work to be done or undertaken) play on uni-tasker (something that has only one function)
Created by: DrWebsterIII
Pronunciation: am' bee - kluts - er- us
Sentence: Yvonne knows how ambiklutzerous William is. She loves him dearly though, even more than the scotch guard.!
Etymology: ambi (around, both, ) + klutz (clumsy, awkward) + dexterous (w/o the dexterity)
Created by: mrskellyscl
Pronunciation: mul-ti-tasked
Sentence: Richard was so inept at multitasking that he was obviously multitaxed.
Etymology: multitask: the ability do several things at once -- the word is derived from a computer term that means the concurrent operation by one central processing unit of two or more processes. + taxed: to use to the limit; to strain or extend
----------------------------
COMMENTS:
No doubt a new government scheme. - Mustang, 2009-05-13: 07:59:00
nice one - galwaywegian, 2009-05-13: 08:52:00
----------------------------