Verboticism: Numerophobia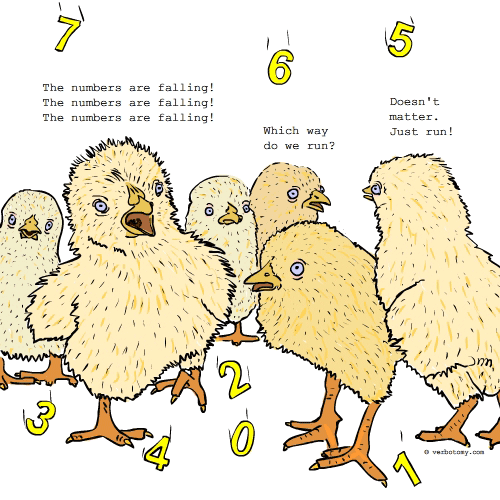 DEFINITION: v. To get freaked out by falling numbers and the prophets of doom who are eternally peddling their message of imminent global collapse. n. A type of mass hysteria created by the fear of falling numbers.
Already Voted
Vote not counted. We have already counted two anonymous votes from your network. If you haven't voted yet, you can login and then we will count your vote.
---
Numerophobia
You still have one vote left...
Created by: notoriousjoeyg
Pronunciation: Num - brun - eks - ee
Sentence: The number of people falling victim to numbrunexy is rising every day.
Etymology:
Created by: FreakyDeak
Pronunciation:
Sentence:
Etymology:
Created by: Mustang
Pronunciation: FIS-cuhl-fryt
Sentence: Horace and Bertha had been putting small amounts into their mutual funds for decades and were trying to ride out the current market tumble with some courage and confidence based on their brokers reassurances, but with each passing day and drop in the DJI they have begun to develop severe fiscalfright.
Etymology: Blend of 'fiscal' (of or pertaining to financial matters in general) and 'fright' (sudden and extreme fear; a sudden terror)
Created by: Jabberwocky
Pronunciation: sueth/dee/kay
Sentence: Economic soothsayers are the harbingers of soothdecay. A positive outlook and good dollar hygiene is what the world needs now.
Etymology: sooth (reality) + decay + soothsayer + tooth decay
----------------------------
COMMENTS:
thaths tho funny - petaj, 2009-03-03: 06:53:00
Clever use of a single letter. You can make a dental patient crazy. Just change the d to an m. - GlobalGallery, 2009-03-03: 07:52:00
reminds me of the old saw ... dental floss for the brain! Super sentence. Super word! - silveryaspen, 2009-03-03: 12:11:00
----------------------------
Created by: artr
Pronunciation: neg-uh-noo-muh-rol-uh-foh-bee-uh
Sentence: After taking a bath during several stock market downturns, Tim developed a bad case of neganumeraphobia. Even the suggestion of a bad day on Wall Street can turn him into a trembling, quivering mess. A mere whisper of the term 401k can cause a catatonic state.
Etymology: negative (lacking positive or affirmative qualities) + numerology (the study of numbers, as the figures designating the year of one's birth, to determine their supposed influence on one's life, future, etc.) + phobia (fear of)
Created by: Nosila
Pronunciation: doom er ol ogee
Sentence: The only religion the chicks knew was doomerology. They were born under a number and when the sky did fall down, they would be hit by a number. When your number's up, you are down permanently.
Etymology: Doom(disastrous destiny) & Numerology(the study of the supposed occult influence of numbers on human affairs
Created by: D4ng3rismymiddlename
Pronunciation: Sounds like "jumpers" but with a chump instead of a jump!
Sentence:
Etymology: Chick + chump + jump
Created by: matkline
Pronunciation: nu-mer-o-pho-bia
Sentence: Ann's numerophobia has gotten so bad that she can't even look at her purse.
Etymology: Numerology + Phobia
Created by: galwaywegian
Pronunciation: loh stee ree ah
Sentence: lowsteria is a much cheaper form of hysteria
Etymology: hysterie, low
Created by: petaj
Pronunciation: pre-sip-a-tate
Sentence: Try not to be precipiteight! I know your horse (no.8) had a fall in the race, and the eight ball fell in the pocket, and your superannuation fell 8% this year, but you read too much into these things.
Etymology: precipitation (rain, settling, deposition) + precipitate (rash, hurried) + eight (a number)
----------------------------
COMMENTS:
clever - Jabberwocky, 2009-03-03: 12:02:00
----------------------------