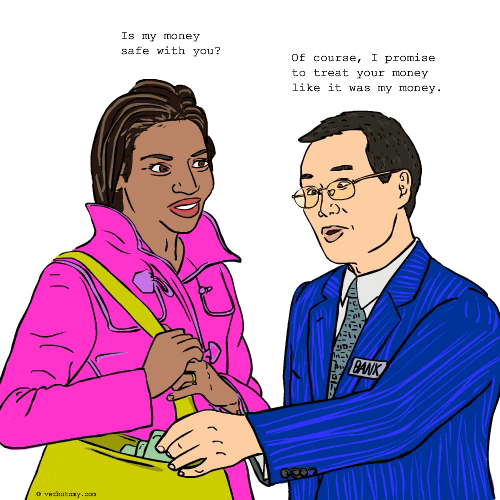 DEFINITION: n. A bank which pays huge salaries to its executives who bet their customers' money on dumb investments, risky loans, and the inevitable government bail-out. v. To lend, spend, and mismanage a bank into bankruptcy.
Already Voted
Vote not counted. We have already counted two anonymous votes from your network. If you haven't voted yet, you can login and then we will count your vote.
---
Bankrapers
You still have one vote left...
Created by: scrabbelicious
Pronunciation: ˈfani:meɪ:i:jɛs:i:meɪ
Sentence: As an only child in an adult's body, the 30 year old banking prodigy Gerry Meander loved his job in global finance. Growing up alone meant he got everything he wanted and was self sufficient (if not satisfied). Gerry was quite happy playing with (er..) himself and "Simple Simon said" whatever Gerry demanded. Mother just kept on giving. And, as he became expert in answering his own questions, job self satisfaction was always guaranteed. So much so, Gerry founded his own bank "FannyMayiYesiMay". And it was so, Simple Simon said.
Etymology: Conglomeration of 1 - Fannie Mae: A bust bank and apparent epicenter of a global finance crisis 2 - Mother may I, the response in the playground role-play game "Simple Simon", where one child plays mother and the other children play Simon.
Created by: idavecook
Pronunciation: Shit-EEE-Bay-n-k
Sentence: "I just got a job at Shitibank!" exclaimed Joe the plumber as he leapt unknowingly down the stairs to his demise. To the horror of his co-workers and recent ex-coworkers, they wondered if Joe knew he had been laid off before his neck hit the last step?
Etymology: A loan, a dick, and your ass.
----------------------------
COMMENTS:
Good play on Citibank butt the etymology?? - mweinmann, 2009-01-27: 11:44:00
Great word...you'd think with exorbitant interest they charge they could keep a few more Joe's on staff.. - Nosila, 2009-01-27: 23:20:00
----------------------------
Voted For! | Comments and Points
Created by: LiaraTivona
Pronunciation: skwerl-vest-or
Sentence: "Why would you give your money to a bank that is a known squirlvestor?" "Don't squirlvestor this company away at a time when the competition is looming!"
Etymology: squirrel (v. to store stashes for the future, many of which may not be recovered) investor (n. a person who arranges finances, often on behalf of others, by placing them in other locations in the hopes of future returns)
Created by: splendiction
Pronunciation: bank boo zl
Sentence: Bankboozle (noun or verb). The bankboozle denied its shifty ways of taking finance to the extreme: purchasing companies that didn't exist, providing discredit and embezzling the rest to their shrwiss accounts.
Etymology: This word is a combination of "bank" and part of the word "bamboozle". Bank means to hold (in this case, one's money or investments) and bamboozle means to hoodwink, deceive or confuse.
----------------------------
COMMENTS:
I think I've been bankboozled before. Good word. - Mustang, 2009-01-27: 19:42:00
meaning so apparent, easy to say, fun to say, good pun, has originality ... exceptional verbotomy. - silveryaspen, 2009-01-28: 01:44:00
----------------------------
Created by: silveryaspen
Pronunciation: bank rape ers
Sentence: As CEO (Cheat Em Officer) of the bank, the first disorder of business was to set my salary at a million of your invested dollars, per year. Of course, each bored member voted the same for themselves. Knowing loans made, would never be repaid, we voted to lend all our business buzzard friends, millions more, so they could carrion their extravagant lifestyles and hide their rotting businesses. The rest of your money, we sinvested in the worthless stock of these business buzzards' companies. For screwing you out of your money, and screwing the government out of billions more, we have become known as the biggest bankrapers in history!
Etymology: BANK, RAPE. Also a word play on bank robbers. BANK - business offering financial services: a business that KEEPS MONEY for individual people or companies, exchanges currencies, makes loans, and offers other financial services. RAPE - violent abusive destructive treatment.
Created by: GlobalGallery
Pronunciation: grow-on-tree-pren-yer
Sentence: "Thankyou Sir" uttered Manuel as he palmed the wrinkled dollar bill handed to him by the sunburnt banker in the driveway of the country club. "The keys are in your Ferrari, and your golf clubs wouldn't quite fit so I've put them in your wife's Bentley" he said politely. As the Ferrari sped off Manuel wondered if one day he too could be a wealthy growontreepreneur.
Etymology: 1. Money doesn't grow on trees - A phrase used to express the need for financial restraint. 2. entrepreneur - someone who organises a business venture and assumes the risk for it.
----------------------------
COMMENTS:
An Irony Hit! - silveryaspen, 2009-01-27: 10:08:00
----------------------------
Created by: Nosila
Pronunciation: mor gowj
Sentence: Remember the good old days, when a bank was synonymous with fidelity, trust, credit? Now they only pay you interest when they want to lien on you. They mortgouge your soul and make you do a balancing act everyday. They venture your hard-earned money and sell it into bondage. They make an asset out of you and me and you can take that to the bank.
Etymology: Mortgage (a conditional conveyance of property as security for the repayment of a loan; put up as security or collateral) & Gouge (obtain by coercion or intimidation)
Created by: artr
Pronunciation: bangkrāp(t)sē
Sentence: The punishment for bankrapecy is a million dollars less in bonuses. Bad, bad banker! Take that you naughty person!
Etymology: bankruptcy (declared in law unable to pay outstanding debts) + rape (the crime of forcing another person to have sexual intercourse without their consent)
Created by: Stevenson0
Pronunciation: si/phon/and/bone
Sentence: "Invest your money in Bank of AmERRica's siphonandbone department where our integrity and your investment needs are rarely, if ever considered. We love gambling on already bankrupt companies and insolvent business ventures. Where else are you assured of losing your money? Devest youself today at Bank of AmERRica."
Etymology: SIPHONANDBONE - taken from SAVINGS AND LOAN - SIPHON (to drain, or skim off) + TO BONE (to take advantage of, to cheat, to screw royally)
----------------------------
COMMENTS:
great word - Jabberwocky, 2009-01-27: 10:14:00
funny - mweinmann, 2009-01-27: 11:44:00
----------------------------
Created by: kateinkorea
Pronunciation: REEL ers en STEEL ers
Sentence: At this bank the wheelers and dealers are more like reelersnstealers. They reel you in and then steal from you.
Etymology: WHEELERS and DEALERS: shrewd operators, especially in business REEL: to pull in STEALER: someone who takes something dishonestly
----------------------------
COMMENTS:
REELY accuRATE! - silveryaspen, 2009-01-27: 01:19:00
Wheely good - TJayzz, 2009-01-27: 10:11:00
----------------------------