Verboticism: Cheapophoret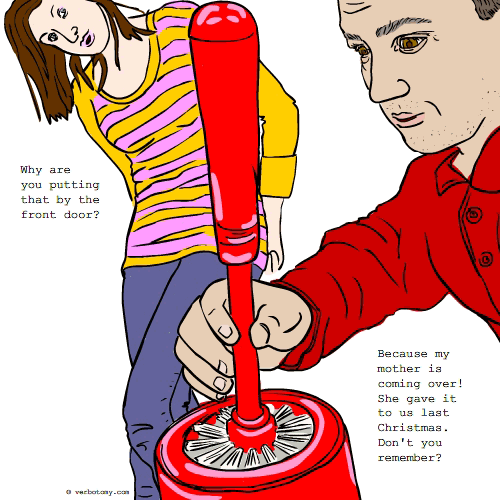 DEFINITION: n., An ugly decorative item or article of clothing received from friends or relatives, which is kept stored away but ready to be pulled out at a moment's notice in anticipation of a return visit. v., To temporarily place an old, and perhaps unattractive gift in a place of honor.
Voted For: Cheapophoret
Successfully added your vote For "Cheapophoret".
You still have one vote left...
Created by: grauntlet
Pronunciation: zam bIft
Sentence: His wife was beginning to serve tea to her mother when Duncan said: "where did you get this god-awful tea set? why dont you get the nice one?". His wife didn't have the time to warn him about the zombift.
Etymology: zombie + gift
Created by: galwaywegian
Pronunciation: ohr nam ens troh sitee
Sentence: it took three men and a JCB to mount the ornamenstrosity on the patio, but a gift from toni was a gift from toni, capese?
Etymology: ornament, monstrosity
----------------------------
COMMENTS:
terrific word - Jabberwocky, 2008-12-16: 11:24:00
Great word - TJayzz, 2008-12-16: 13:15:00
Capese! You keep trying to put it away, but they keep pulling you back! - Nosila, 2008-12-16: 22:20:00
Fuggetaboutit! - metrohumanx, 2008-12-17: 01:05:00
Ornamentatious! - dochanne, 2008-12-17: 03:19:00
----------------------------
Created by: Carla
Pronunciation: dis-gwift
Sentence: Mary smiled through gritted teeth as she opened the box containing Aunt Sally's latest knitted monstrosity. The crocheted trousers would be consigned to the disguift drawer immediately.
Etymology: disgust + gift
Created by: artr
Pronunciation: əgləmənt
Sentence: Bill and Joan have one of the prettiest Christmas trees in the neighborhood. The only thing that keeps it from being the best is the huge uglament they are obligated to hang prominently on their tree. It was a gift from Joan's mother. Mom made this atrocious bauble in her craft class from an egg carton and too much glitter.
Etymology: ugly (unpleasant or repulsive, esp. in appearance) + ornament (a thing used to adorn something but usually having no practical purpose)
Created by: bzav1
Pronunciation: kin - shee
Sentence: We had to put out several of the kinschy gifts my family had given to us over the years before they arrived over the holidays.
Etymology: kin + Kitschy
Created by: artr
Pronunciation: rəglē
Sentence: It was a wedding gift from Aunt Martha. It's hideous. Nonetheless with her impending visit, the handmade rugly thing is front and center in the foyer. As long as it is on the floor, the dogs insist on entering and exiting the back door.
Etymology: rug (a floor covering of shaggy or woven material, typically not extending over the entire floor) + ugly (unpleasant or repulsive, esp. in appearance)
Created by: galwaywegian
Pronunciation: tak eee tik
Sentence: They made a tackytical substitution over the fireplace in the living room. The singing fish replaced the Van Gogh for the duration of old uncle chuck's visit to town.
Etymology: tack tactic.
Created by: Mustang
Pronunciation: SHUF + l + gift
Sentence: Thurman had perfected the art of shufflegift by keeping hideous shirts and other clothing items in the laundry hamper and decorating an ugly lamp as a coat hanger.
Etymology: Shuffle = to move around from place to place + gift.
----------------------------
COMMENTS:
like it - Jabberwocky, 2007-12-12: 13:23:00
Very clever! - OZZIEBOB, 2007-12-12: 20:03:00
----------------------------
Created by: Stevenson0
Pronunciation: gift/kwes/ter
Sentence: We have a box in our closet in the family room where we giftquester all the awful presents our relatives have given us and can be retrived at a moments notice and be placed accordingly some where in sight.
Etymology: gift + sequester
Created by: tonii
Pronunciation: /ug-ift-o-rate/
Sentence: If you don't ugiftorate that nasty green vase onto the coffee table, your sister-in-law will never speak to you again!
Etymology: ugly + gift+ decorate