Verboticism: Wornographic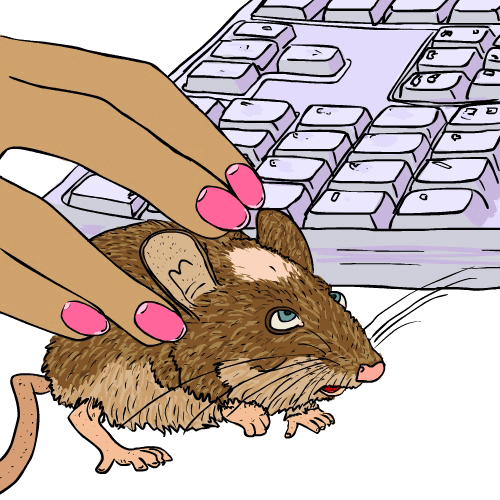 DEFINITION: n., A wear mark, or shiny spot, which appears on a heavily used computer touch-pad, mouse or keyboard. v., To wear down or erode through repetitive clicking, tapping or poking.
Voted For: Wornographic
Successfully added your vote For "Wornographic".
Thanks for voting! You have now used both of your votes today.
Created by: garythesnail
Pronunciation: bor-SO-FLY-POORD
Sentence: Felix had many boursoflypords on his keyboard.
Etymology: french 'boursouflure' for blister, + type + keyboard
Created by: libertybelle
Pronunciation: klick - pit
Sentence: I realized I was spending entirely too much time on-line playing those escape the room games when my 3 month old laptop had already developed a clickpit in the touch-pad.
Etymology: click -action of operating a mouse or touchpad + pit - small divot caused by repeated friction.
----------------------------
COMMENTS:
It has a satisfying sound to it. I like it. - astorey, 2008-10-17: 11:55:00
----------------------------
Created by: Mustang
Pronunciation: hard-wayr
Sentence: Simon's friends referred to his keyboard, mouse and mousepad as his hardwear because of the excessive wear shown on them by his overly rough use.
Etymology: Blend of 'hard' and 'wear', a play on the word 'hardware'.
Created by: randomizer
Pronunciation: mows-moos-ur-gee-uhm
Sentence: I've been using the wrong mouse and now it has mousemousseurgeum!
Etymology: mouse-mousse-urge-eum
----------------------------
COMMENTS:
Clever and 100% unique! - randomizer, 2008-10-18: 00:09:00
----------------------------
Created by: Poetikat
Pronunciation: gliss dip
Sentence: Over time the little ball under her mouse formed an irrevocable glisdip.
Etymology: glis - from glisten dip - indentation
Created by: squid
Pronunciation: blind is um
Sentence: the lady suffers from blindism because she thought the real mouse was a computer mouse.
Etymology: blind- cannot see ism- the obvious
Created by: mrskellyscl
Pronunciation: key-ro-shun
Sentence: Maxine was shiftwrecked due to keyrosion. Her computer was spacebarred and pitted, her mousepooped from exhaustion and she was becoming debilitated from numberless keystrokes. She was all keyed up about it when it clicked in her mind that she was simply board with her life. She worried that she had become typecast, spending every day wading in the typingpool for her shift to come in. Maxine realized at that moment that she had spent too much time backspacing away from her dreams of adventure and romance, so she decided to correct the error. She used her trusty keyboard one last time to type up her letter of resignation and booked herself on the next cruise to the islands.
Etymology: key: lever that operated a mechanism when depress as in the keys of a keyboard + erosion: wearing away or pitting caused by natural processes such as abrasion, grinding or chemical means or overuse
Created by: bzav1
Pronunciation: geek + polish
Sentence: Judging by the geekpolish on Jimmy's laptop, he had been spending a bit too much time on Facebook.
Etymology: Not to be confused with my Eastern European roots (geek Polish)
Created by: Jabberwocky
Pronunciation: mouse/keh/tare
Sentence: Sally was so busy scrolling through ebay that she didn't notice that the mousekewear had swiftly become a mouseketear.
Etymology: mouse + tear (rip) + mouseketeer
----------------------------
COMMENTS:
Very clever! Perhaps you need a cybercat! - OZZIEBOB, 2007-11-20: 16:41:00
----------------------------
Created by: Nosila
Pronunciation: eek ro shun
Sentence: Minnie's mouse was worn away by eekrosion. She had used her computer a million times to meet the demands of her boss, but now the surface was taking on a dull patina and she was sure eekrosion was creeping in. It was a pity, always having to work with a Mouse...but that was the price you paid for going to work at the office of the Disney Corporation!
Etymology: eek (the squealing sound people in cartoons make when they see a mouse) & erosion (condition where the finish or top layer is worn away by wind, water or constant friction) & e-rosion (electronic wearing away of something)
----------------------------
COMMENTS:
Last week I captured a mouse in a strongbox and released it in the woods. - metrohumanx, 2008-10-17: 12:17:00
This week I cornered a rat in my office and made him apologize for doing something stupid...I think the 4 legged ones would be easier to train... - Nosila, 2008-10-17: 22:17:00
Hahaha...I just detected mouse #2- a close relative of #1, i guess. Time to set up the strongbox again. - metrohumanx, 2008-10-18: 06:40:00
I caught a mousy brown rat weaseling into a pussy's prim pudding. - zxvasdf, 2008-10-18: 15:15:00
Mice are like insects...when you kill one, all his relatives show up for the funeral! - Nosila, 2008-10-18: 23:36:00
----------------------------