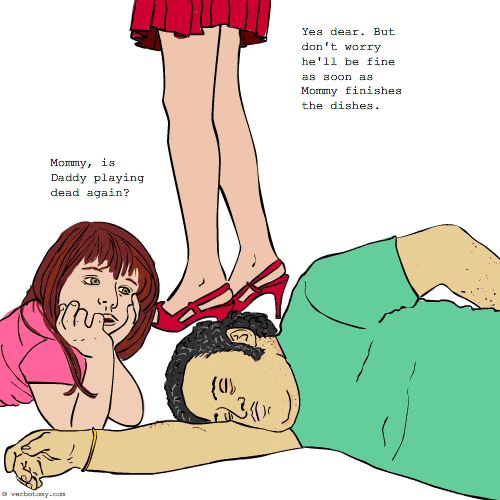 DEFINITION: v. To be physically overcome by a sudden illness, disability, or even death when asked to participate in unrewarding activities -- like work, or household chores. n. A person who gets sick when asked to work.
Already Voted
Vote not counted. We have already counted two anonymous votes from your network. If you haven't voted yet, you can login and then we will count your vote.
---
Broomosis
You still have one vote left...
Created by: Edburns
Pronunciation:
Sentence: The young toddler was flamboozled after his mother asked him to take out the trash.
Etymology:
Created by: Steerpike
Pronunciation: Chore-dom
Sentence: As Andy saw the list of tasks for this month's milestone he slumped in his chair, overcome with chordom.
Etymology: Chore + Boredom
Created by: Jonno
Pronunciation:
Sentence: Being of a slothful disposition, Jed was prone to slackout during Spring cleaning.
Etymology: A blackout suffered by the slack.
Created by: kafka
Pronunciation:
Sentence: At the first sign of work relegation, some will chorepossum, or feign death to escape strenuous labor.
Etymology: chore+opossum
Created by: ipmcleod
Pronunciation: CHORR-i-toe-sis
Sentence: A sudden strain of choreitosis afflicted my friends that weekend, so I moved myself
Etymology: Choreit, from the Ruritanian cho-rit, meaning nothing, and osis, from the Ruritanian ohcys, meaning good for.
Created by: moggy
Pronunciation: Hell.Per.Jen.Ick.
Sentence: "I'm sorry I can't help you with the dishes - allergies you see?" "Oh, that's ok, these dishes are hypo-helpergenic!"
Etymology: From Help. Allergic. See? See?
Created by: lexi3lui
Pronunciation:
Sentence:
Etymology:
Created by: helanren
Pronunciation:
Sentence: Uncle Joe used to be a workaholic, but after thorough counselling he is now a healthy weetotaller
Etymology: obvious opposite of workaholic, mimicking the relation between t-totaller and alcoholic
----------------------------
COMMENTS:
After some more thinking, I have decided weewowaller would be better. Totally incomprehensible I guess, but it sounds so much better! - helanren, 2006-12-14: 12:19:00
----------------------------
Created by: Lyokia
Pronunciation: Ort-a-tyze
Sentence: He ortatized as soon as he heard the word "dishes".
Etymology:
Created by: BTornado14
Pronunciation: sis-e-SIC-ko
Sentence: Most people would call into work sick for a day of fun, but would fear being accused of being a sissysicko.
Etymology: a compound of sissy, someone who is not brave and sicko, a slang word meaning someone who is sick.