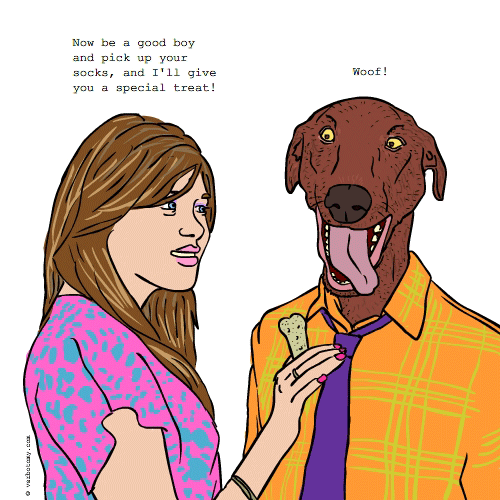 DEFINITION: v. To use animal training techniques to improve and direct the behavior of other people. n. A technique which uses the principles of animal training to solve a human behavioral riddle.
Voted For: Treaser
Successfully added your vote For "Treaser".
You still have one vote left...
Created by: Nosila
Pronunciation: foke whis per er
Sentence: Abby decided to use her skills as a Horse Whisperer on her human family to see if the methods brought the same great results they had with her equine clients. With a large carrot, she approached her son Marvin cautiously, when he was again tying up her phone for hours. She bent close to his open ear, stroked his adolescent face gently and whispered the calming words which had the desired affect:"Get off that darn phone now or I will jam this carrot into your other ear!" At once he hung up and ran for his room. Yes, using Folkwhisperer methods worked every time... it wasn't tough love, but pavlove!
Etymology: folk (people in general)& the horse whisperer (a person who tames and trains horses by gentle methods and speech)
----------------------------
COMMENTS:
'Pavloved' your story! Too funny! My conditioned response was to LOL... - Tigger, 2008-05-19: 02:49:00
you might not believe it but I didn't read youir sentence before I posted. - stache, 2008-05-19: 13:13:00
I believe you, stache...not the first time great minds have thought alike... - Nosila, 2008-05-19: 16:54:00
----------------------------
Created by: mrskellyscl
Pronunciation: re-in-force-men
Sentence: Paula used both positive and negative reinforcemen to get whatever she wanted. Her technique included the rewards of steaks, sports, beer, and the occasional night out with the boys; however, she discovered that sex could be used both positively as a reward and negatively by withdrawing the reward when appropriate.
Etymology: reinforcement: technic whereby the delivery of a stimulus, good or bad, after a response increases the likelihood of the behavior repeating. + men: creatures that have been test subjects for women since the dawn of civilization
Created by: shija
Pronunciation: school-laf-fool
Sentence: Have you tried schoolafooling?
Etymology: A blend of schooling and fooling.
Created by: artr
Pronunciation: rohl-roh-ver
Sentence: Jane's husband snores terribly if he sleeps on his back. She got tired of poking him in the ribs to get him to roll over onto his side. Watching him clicker-train their dog inspired her. That night, when the snoring started, she used the clicker. He immediately rolled onto his side. Her rollrover technique was a success. No more broken nails for her. No more sore ribs for him.
Etymology: roll over (a common trick dogs are trained to do) + Rover (a common dog name)
Created by: OZZIEBOB
Pronunciation: POOCH-neek
Sentence: "If you have something to say." Roxie barked, "shut up." She hoped that her poochniques would make Bob think that he had a dog for a wife, and he would forever remain her best friend.
Etymology: Blend of POOCH: slang for dog; etymology unknown, could be from German "Putzi" a name for a lap-dog?? & TECHNIQUE.
Created by: phoenix89
Pronunciation: hue - man- ee- trainer
Sentence: The one thing motivational speakers and animal trainers have in common is that they each teach their own audience how to become better.Some people can train their pets but need training themselves.Thats when you introduce the Humanitrainer. A session or few will have that human in shape in no time.
Etymology: human ( the one reading this paper) trainer ( someone who guides or educates another in a specific area)
Created by: Jabberwocky
Pronunciation: pav/low/veegan/theory
Sentence: The pavlovegantheory explores conditioning the reflexes of patrons to eat only vegetables when the subjects hear a bell ringing. An example would be the huge success of Potaco Bell.
Etymology: Pavolovian theory (dog's salivating when they hear a bell ringing) + vegan
Created by: rikboyee
Pronunciation: sham-oo-dyoo-kayt
Sentence: once she discovered how much he enjoyed being scratched on the back of the head, she found it simple enough to shamuducate her husband
Etymology: shamu, educate
Created by: TJayzz
Pronunciation: Man-ayp-yu-layt
Sentence: Pam was hoping that when Bob saw the documentary on how the apes adapted the various things in their surroundings to use as tools, that it may spur him on to getting on with all the little jobs that needed doing around the house
Etymology: Man(Human being) +ape (a large tailess primate) +(manipulate (to cleverly control or influence) =manapulate
Created by: splendiction
Pronunciation: rhymes with "obedience school"
Sentence: They had tried everything, it seemed, to eliminate their son's thumbsucking: behaviour modification, ignoring, even praise. Nothing worked until obediencesocool! The idea of simply complying with their requests actually became the new cool thing to do! They hoped this new trend would last and spawn similar trends.
Etymology: A play on a dog "obedience school".
----------------------------
COMMENTS:
Cool word...what you have to do with teens these days... - Nosila, 2009-06-30: 01:22:00
----------------------------