Verboticism: Atteledeficitdisorder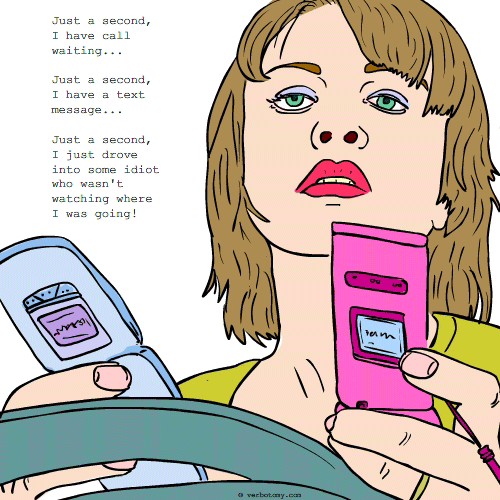 DEFINITION: n. A person who engages themselves in several different communication channels at the same time, without paying attention to any of them v. To constantly switch your focus between cellphone calls, text messages, emails, and anything else that beeps.
Already Voted
Vote not counted. We have already counted two anonymous votes from your network. If you haven't voted yet, you can login and then we will count your vote.
---
Atteledeficitdisorder
You still have one vote left...
Created by: purpleartichokes
Pronunciation: pol-ee-jah-nik
Sentence: Sue, being polyjawnic, was last seen multichatting on her keyboard and cell phone when the fire alarm went off.
Etymology: polyphonic, jaw (slang for idle chat)
----------------------------
COMMENTS:
Two cheers for multichatting and three cheers for polyjawnic. Both are Jaw-awesome! - silveryaspen, 2008-02-28: 09:36:00
----------------------------
Created by: artr
Pronunciation: ēdēət
Sentence: Rudy is addicted to his electronic toys. If he wasn't texting someone, he was checking his e-mail, browsing the internet or blogging. He might even be found creating a nonsense word for some silly online game. Despite all these connections Rudy is an ediot. He has no idea what is going on in the real world. Obama elected? He didn't even know there was an election until several days after the fact.
Etymology: e (electronic) + idiot (a stupid person)
----------------------------
COMMENTS:
Perfect word, artr! - Nosila, 2008-12-12: 16:15:00
----------------------------
Voted For! | Comments and Points
Created by: Jabberwocky
Pronunciation: mac/a/rome/ee
Sentence: Being the proud owner of a MacBook, an ipod and an iphone her brain became so confused that she stuck a feather in her cap and became a Macaroami!!
Etymology: mac + roam + macaroni
----------------------------
COMMENTS:
A dandy doodle, Yankee :-) - emdeejay, 2008-12-12: 11:34:00
----------------------------
Created by: youngerway
Pronunciation: rəʊbɒblɪpə(r)
Sentence: Beth is definitely a roboblipper. She's always pressing buttons not knowin what tha hell she's doing. She tries to switch channels with her blackberry at least twice a day.
Etymology: robot (person who works without thinking) + blip
----------------------------
COMMENTS:
Sometimes we all fall to roboblipping ... this will keep me chuckling every time I do it. Funtastic word. - silveryaspen, 2008-12-12: 12:14:00
clever blend - OZZIEBOB, 2008-12-13: 16:19:00
----------------------------
Created by: Stevenson0
Pronunciation: in/cell/i/gent
Sentence: It takes a sophisticated and incelligent person today to command and control a Blackberry which is a able to act as a computer, phone, emailer, texter, gamer, GPSer, car starter, baby listening device, hair brush, electric shaver, nail filer and make-up mirror all in one and all at the same time while you're driving to work and eating breakfast.
Etymology: INCELLIGENT - from CELL + INTELLIGENT
----------------------------
COMMENTS:
Truly great create for it incorporates the essence of the brain power involved. - silveryaspen, 2008-12-12: 12:17:00
I like it. - Mustang, 2008-12-13: 01:33:00
Very good. - OZZIEBOB, 2008-12-13: 16:18:00
----------------------------
Created by: Nosila
Pronunciation: sy ber noy
Sentence: Cynthia was a cybernought...she was so connected on so many devices that she really never knew who or what she was speaking to or about...too much of a good thing is obviously very bad for you!
Etymology: Cyber (computer network & cybernaut (someone who surfs the computer networks, like an astor naut or an argonaut) & Nought (nothing;Nil)
Created by: petaj
Pronunciation: Like the dance - cha cha cha
Sentence: Loquacia's stint on "Dancing with the Stars" was shortlived. She was fully kitted up with Blackberry, iPhone, walkie talkie, and netbook for every rehearsal. Instead of practising the paso doble and the foxtrot, she kept doing the chatchatchat.
Etymology: cha cha cha - an up tempo dance step + chat (communicate)
Created by: picabomama
Pronunciation: multi/task/hole
Sentence: It never failed that as soon as Kelly and her husband Aaron got into the car he would pull out his cell phone and start dialing. While he was waiting for it to connect he would spin the dial on his iPod to show off his latest musical finds, never actually letting any of the songs play farther than the chorus. All of this was made more annoying by the fact that while at home the multitaskhole couldn't seem to fold laundry and watch TV at the same time.
Etymology: multi-tasker + a%&hole I believe that is self-explanatory.
----------------------------
COMMENTS:
Cute! - ErWenn, 2008-02-28: 09:31:00
Exceptionally good and exceptionally funny! - silveryaspen, 2008-02-28: 09:51:00
----------------------------
Created by: yellowbird
Pronunciation: gaj-ih-tear
Sentence: Susan was an excellent gadgeteer - she parried her voice mail, riposted to a text message, and engaged in a brief discussion with her mother before turning off her phone and thrusting it into the ice bucket alongside the champagne. She then smiled at her husband and said, "Darling, where were we?"
Etymology: gadget + musketeer
----------------------------
COMMENTS:
One for all ... ! Exceptional! - silveryaspen, 2008-02-28: 09:17:00
Ooh. I like this word. Reminds me of the Rocketeer. - ErWenn, 2008-02-28: 09:30:00
Very good word! - OZZIEBOB, 2008-02-28: 15:32:00
----------------------------
Created by: jajsr
Pronunciation: Pet-tech-e-span
Sentence: Cyndi was in a pickle. Her kids called her cell phone so she could pick them up from school; her mom called about visiting later that evening; her husband texted her saying he'd be home late; and her boss e-mailed her about the business trip next week. Overwhelmed by all of the ringing and beeps from her phones, Cyndi forgot to pick up her kids. When she showed up to pick up her kids two hours late, she apologized to her kids and blamed her tardiness due to her pettechispan.
Etymology: Mixture of "Pet" from Petty: Having secondary rank or importance; "Tech" from Technology - relating to different electronic media; and "Span" - relating to having a small attention span.