Verboticism: Lolcatastrophy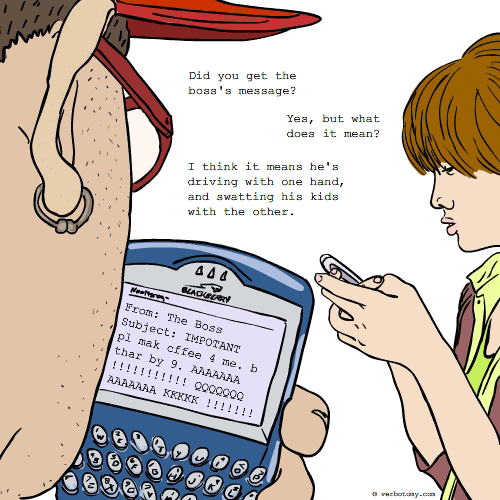 DEFINITION: v., To grasp the meaning of muddled texts like blog posts, emails and text messages where standard grammatical or spelling conventions have been ignored. n., The ability to read and understand confused or poorly written messages.
Voted For: Lolcatastrophy
Successfully added your vote For "Lolcatastrophy".
You still have one vote left...
Created by: Mustang
Pronunciation: Sie-ber-fath-um
Sentence: Mary Lou was an old hand at internet communications and could cyberfathom any and all internet shorthand
Etymology: cybernetics and comprehension
----------------------------
COMMENTS:
neat - nerdkiller, 2007-11-15: 18:34:00
----------------------------
Created by: TJayzz
Pronunciation: Inter-pret-ex-t
Sentence: Jane's mum just couldn't get to grips with the predictive text on her cellphone, luckily Jane was an expert in interpretext, so when her mum's muddled messages came through she understood exactly what she was trying to say.
Etymology: Interpret (Understand the meaning of, translate) + Text (Written or printed words, message left on cellphone) ORIGIN Latin textus from texere 'weave' = Interpretext)
----------------------------
COMMENTS:
great combo - Jabberwocky, 2008-10-14: 13:21:00
Very clever. - Mustang, 2008-10-14: 17:22:00
Intuitive and eminently pronounceable word! - metrohumanx, 2008-10-17: 07:48:00
----------------------------
Created by: Stevenson0
Pronunciation: tex/hume
Sentence: His job was to texhume cryptic messages that had been buried in emails.
Etymology: TEXHUME - verb from TEXT (a unit of connected writing) + EXHUME (to revive, or restore; bring to light)
----------------------------
COMMENTS:
Good word - Nosila, 2008-10-14: 20:14:00
----------------------------
Created by: hendrixius
Pronunciation: dee-sibe-fur-ing
Sentence: I am having trouble decybphering this text message; WTF does MLFJJUICK 4 NOLK mean?
Etymology: decipher and cyber
Created by: rikboyee
Pronunciation: dee-sigh-bah
Sentence: when i texted 'flz 88 grm nb h5g nnzz' to my friend i was confident he would be able to decyber it
Etymology: decipher, cyber
Created by: garythesnail
Pronunciation: Slu-text-i-zhion
Sentence: When her husband sent her an IM, Jane said 'What is this?' Her husband said I have slatextion. It says: Get eggs, coffee and milk at the store, please.
Etymology: Slang+text+suffix "ition"
Created by: mrskellyscl
Pronunciation: tex-ti-col-o-gist
Sentence: Having twin 15 year old daughters, and a 13 year old son qualified Sara as an expert texticologist and she was often called as an expert witness in court proceedings where text interpretation was needed.
Etymology: lexicology:the study of words and their meanings + text: + (-ologist-science or study of)texting: sending a text message
----------------------------
COMMENTS:
good one - Nosila, 2010-03-11: 16:12:00
----------------------------
Created by: hooterbug
Pronunciation: kwûr'kē
Sentence: Fortunately I have one of the new QWERKY keypads on my Crackberry that will decipher whatever I'm texting incorrectly and change it to intelligible English before it is sent. Nothing is worse than poor KEYBONICS!!!!
Etymology: From the proper QWERTY keypad and of course..please practice correct KEYBONICS
----------------------------
COMMENTS:
Who can qwibble with a word like that? - Nosila, 2008-10-14: 20:16:00
Good one, H-bug! - metrohumanx, 2008-10-17: 12:19:00
----------------------------
Created by: artr
Pronunciation: sīfərfaðəm
Sentence: Harry spent his career breaking coded messages in his job at the NSA. Despite this he has trouble trying to cypherfathom emails and texts from his kids.
Etymology: cypher (a secret or disguised way of writing) + fathom (understand)
Created by: Mustang
Pronunciation: gob-uhl-deh-kook
Sentence: Fenster is an absolute gobbledekook who can instantly decipher the garbled lingo used by those who textmessage and post on blogs and forums.
Etymology: Blend of 'gobbledegook' (language characterized by circumlocution and jargon, usually hard to understand) and 'kook' (an eccentric, strange, or foolish person)
----------------------------
COMMENTS:
Love that jargon, Mustang! http://www.pacifier.com/~dkossy/kooksmus.html - metrohumanx, 2008-10-14: 02:33:00
----------------------------