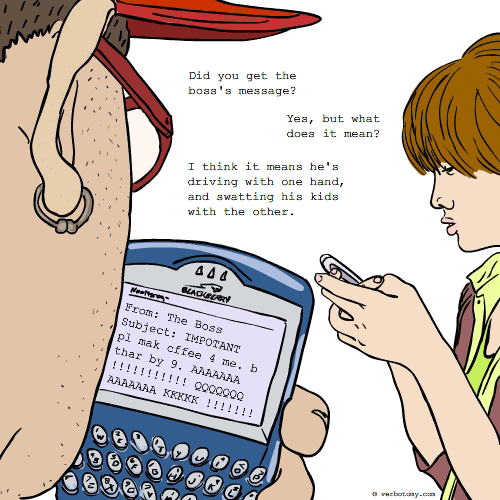 DEFINITION: v., To grasp the meaning of muddled texts like blog posts, emails and text messages where standard grammatical or spelling conventions have been ignored. n., The ability to read and understand confused or poorly written messages.
Already Voted
Vote not counted. We have already counted two anonymous votes from your network. If you haven't voted yet, you can login and then we will count your vote.
---
Texhume
You still have one vote left...
Created by: lumina
Pronunciation: jum/bl/gi/a
Sentence: The new boss seemed to have his own language when it came to texting. At first everyone was nervous. It wasn't until someone made a call down to the mailroom where Simon the jumbleguya worked. He could unscramble eggs.
Etymology: play on Jambalaya
----------------------------
COMMENTS:
Twenty lashes with a wet noodle, Lumina. - metrohumanx, 2008-10-14: 02:34:00
Youch! (mix of Yummy and Ouch) :) - lumina, 2008-10-14: 10:04:00
great word - Jabberwocky, 2008-10-14: 13:20:00
----------------------------
Voted For! | Comments and Points
Created by: Nosila
Pronunciation: dee sye for
Sentence: Once again Nancy had to try and decode her boss's text message. She always hoped her hunky boss would find her as attractive as she found him and send her a personal message. So far she could only dsighfor his texts, which all seemed to be business related. It did not help that he was such a poor speller and tended to multitask while texting her instructions. The latest message was especially confusing. "Gout 4 drinks? Call" She didn't know if she should pretty herself up and make reservations or call his doctor to make an appointment...
Etymology: Decypher (convert code into ordinary language;read with difficulty) & Sigh For (an utterance made by exhaling audibly; indicating anxiety about one's emotional attachment for someone)
Created by: perkolady
Pronunciation: sec-ra-TAL-ent
Sentence: "Hmm, forward that message to Sylvia--she's got amazing secretalent."
Etymology: From your standard secretary, nurse, or other aid-giving person's miraculous ability to read their superiors' chickenscratch.
Created by: Stevenson0
Pronunciation: tex/hume
Sentence: His job was to texhume cryptic messages that had been buried in emails.
Etymology: TEXHUME - verb from TEXT (a unit of connected writing) + EXHUME (to revive, or restore; bring to light)
----------------------------
COMMENTS:
Good word - Nosila, 2008-10-14: 20:14:00
----------------------------
Created by: Stevenson0
Pronunciation: tex/hume
Sentence: His job was to texhume cryptic messages that had been buried in emails.
Etymology: text + exhume
----------------------------
COMMENTS:
K-rad ! c u l8r - OZZIEBOB, 2007-11-15: 17:37:00
----------------------------
Created by: thebaron
Pronunciation: de-cryp-ta-text
Sentence: Jason could easily decryptatext his boss' practically unreadable messages.
Etymology: de(undo) crypt (hidden message) text (words)
Created by: SpaceCadet
Pronunciation: uhn-SKRAM-AH-grAHm
Sentence: - "Wow man, you can unscramblagram that? I can't make heads or tails of this egarbage!" Johnny said. - "Yeah dude, I'm a regular unscramblagrammer... I guess I'm just good at getting into the sender's state of mind, you know?" Mike replied. - "Whoah..." said Johnny.
Etymology: 1. "unscramble": (verb) to restore (a scrambled message) to intelligible form; "unscrambler" (noun), a person or thing that unscrambles. 2. "agram", from "agrammatical" = "a-" (prefix) not + "grammatical" (adj.) conforming to the rules of grammar
Created by: jkernen1
Pronunciation:
Sentence: The jibberish you texted wasn't easy to confunderstand.
Etymology: confuse + understand
Created by: mrskellyscl
Pronunciation: tex-ti-col-o-gist
Sentence: Having twin 15 year old daughters, and a 13 year old son qualified Sara as an expert texticologist and she was often called as an expert witness in court proceedings where text interpretation was needed.
Etymology: lexicology:the study of words and their meanings + text: + (-ologist-science or study of)texting: sending a text message
----------------------------
COMMENTS:
good one - Nosila, 2010-03-11: 16:12:00
----------------------------
Created by: badsnudge
Pronunciation: ˈlēt-ə-rət
Sentence: "OMG! ure rly noobi5h. lkjlkjlkj" wrote the daughter to her father, which may have otherwise resulted in hurt feelings, but fortunatly, the father was not leeterate (also l33t3r8), and had no idea what she meant, and only figured that there must have been something wrong with her or his phone.
Etymology: l33t + literate.