Verboticism: Starvingchinasyndrome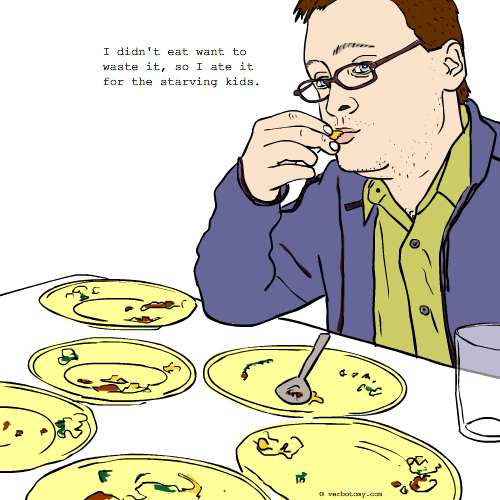 DEFINITION: v., To finish your plate and eat all the food in front of you, even when not hungry. n., Compulsive over-consumption of food in order to relieve guilt.
Already Voted
Vote not counted. We have already counted two anonymous votes from your network. If you haven't voted yet, you can login and then we will count your vote.
---
Starvingchinasyndrome
You still have one vote left...
Created by: systemax57
Pronunciation:
Sentence:
Etymology:
Created by: darkley
Pronunciation: fo-ver-ump-tion
Sentence: Jerry foverumption the disgusting meal.
Etymology: food+over+consumption
Created by: tbazz
Pronunciation:
Sentence:
Etymology:
Created by: Mustang
Pronunciation: n. e-yew-roe-nate
Sentence:
Etymology:
Created by: TJayzz
Pronunciation: Gobb-el-sayt
Sentence: As a child, Tom's mother always reminded him of the starving children in Africa everytime he thought about leaving his dinner. So even now at the age of forty two he would never leave a single thing on his plate in order to ease the guilt of the mental picture she had planted firmly in his head. Even if he had to sit there for hours just to make sure every scrap of food had been eaten, it didn't matter as long as he felt he had done his bit for mankind. This could possibly explain why he weighed thirty five and a half stone!
Etymology: Gobble( to hurriedly eat a large amount) + Sate( supply with as much or more than desired or can be managed) = Gobblesate
Created by: Jabberwocky
Pronunciation: gulp/a/bill/i/tee
Sentence: Dave's gulpability was uncontested. He felt he had to finish every last drop of food or drink so that it would not go to waste - unfortunately it went to waist.
Etymology: culpability + gulp
----------------------------
COMMENTS:
Big Gulpability an new 7-Eleven drink! - Scrumpy, 2007-10-12: 09:55:00
Very good word blend with wider application. - OZZIEBOB, 2007-10-14: 19:10:00
----------------------------
Created by: deaninc
Pronunciation: over-sal-vism
Sentence: having oversalvism may lead to psychological disorders
Etymology: The sensory perceptors creating over-zealous enzymes within the mouth triggering individual ideology.
Created by: remistram
Pronunciation: gluht-mahr-ter-tun
Sentence: Immediately following the cancellation of his monthly donation to childrens charities, he glutmartyrtonned on copious amounts of potato chips, cheesies, doritos and party mix.
Etymology: glutton + martyr
Created by: oxinlingo
Pronunciation:
Sentence:
Etymology:
Created by: Scrumpy
Pronunciation: mal-feest-uhns
Sentence: Ken felt guilty about ordering 100 dollars worth of foie gras and the malfeastance he fealt led him to order Baluga Caviar and Kentucky Fried Chicken. He washed it down with a bottle of Kristal and a few Red Bulls.
Etymology: malfeasance + feast
----------------------------
COMMENTS:
scrumpdelicious - Jabberwocky, 2007-10-12: 09:27:00
Good to see that Ken has taken a stance! Great word. - OZZIEBOB, 2007-10-14: 19:08:00
----------------------------