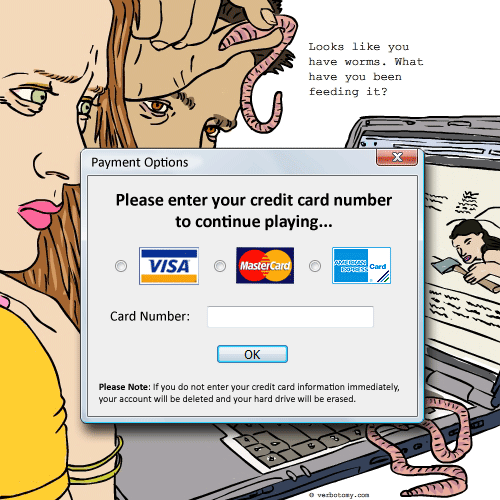 DEFINITION: n. A self-deprecating computer virus which is constantly changing its identity due to problems with its logic and/or self-confidence. v. To randomly change your tune, just so you can bug other people.
Voted For: Wormonger
Successfully added your vote for "Wormonger".
Pronunciation: woor monger
Sentence: Sally had inadvertantly loaded up the new wormonger virus by entering a contest online. So much for their viral security promises. Every time she tried to capture and elimiate it, it changed yet again. By the time the wormonger was done, Sally wondered how she could wriggle out of this one...
Etymology: Worm (a person who has a nasty or unethical character undeserving of respect; a software program capable of reproducing itself that can spread from one computer to the next over a network) & Monger (someone who purchases and maintains an inventory of goods to be sold) & WORDPLAY on Warmonger (a person who advocates war or warlike policies)
Points: 923
Voted For!