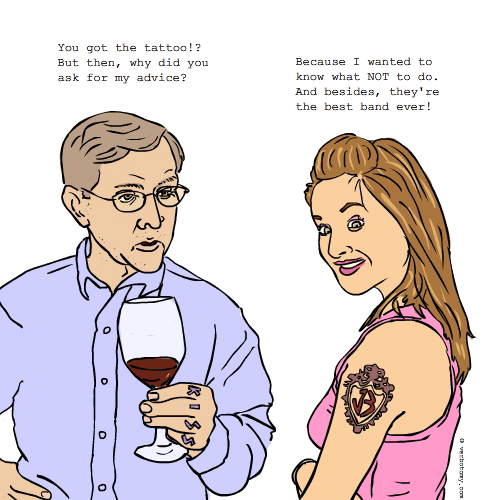 DEFINITION: n. Advice which is asked for, considered, and then promptly forgotten -- until it is too late. v. To ask for, listen to, and then reject or ignore advice.
Voted For: Fadmonishun
Successfully added your vote for "Fadmonishun".
Pronunciation: fad mon i shun
Sentence: Betsy had asked her aging old hipster dude of a Dad as to whether or not she should get a tattoo. He told her to learn from his misspent youth and forget about putting graffiti on her body. His fadmonition clearly fell on deaf ears. She returned home with a large tattoo of Justin Bieber's initials on her arm. Dad advised her the whole story about his tattoos. He too had honored his favourite bands with tattoos. KISS on his ring fingers;THE KINKS at the nape of his neck;SPINAL TAP on his backbone;ABBAdomen on his stomach;THE STONES you-know-where and just above his heart, GERRY & THE PACEMAKERS.
Etymology: Fad (an interest followed with exaggerated zeal;popular trend) & Admonition (cautionary advice about something imminent (especially imminent danger);a firm rebuke)& Shun (ignore;avoid and stay away from deliberately; stay clear of)
Points: 827
Voted For!