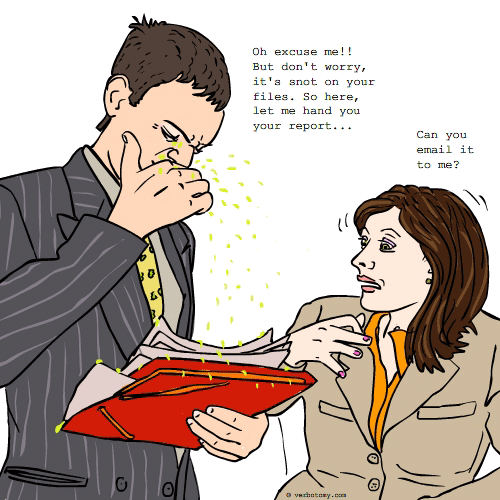 DEFINITION: v. To be so hardworking and dedicated to your job that you come to work even when you're sick and dangerously infectious. n. A person who comes to work sneezing, coughing, contagious, and sick as a dog.
Voted For: Contagent
Successfully added your vote for "Contagent".
Pronunciation: [kuhn-tey-juhnt]
Sentence: In the real estate business, there was only one man that made every client sick. Literally. Whether, rain or shine, herpes or measles, swine flu or walking pneumonia, Dan could always be relied on to show houses or man the phones as the hardest working contagent in the office.
Etymology: A mash-up of 'contagion', the communication of disease by direct or indirect contact and 'agent', a person or business authorized to act on another person or business's behalf, a substance that causes a reaction, or any microorganism capable of causing disease.
Points: 1016
Voted For!