Verboticism: Quashification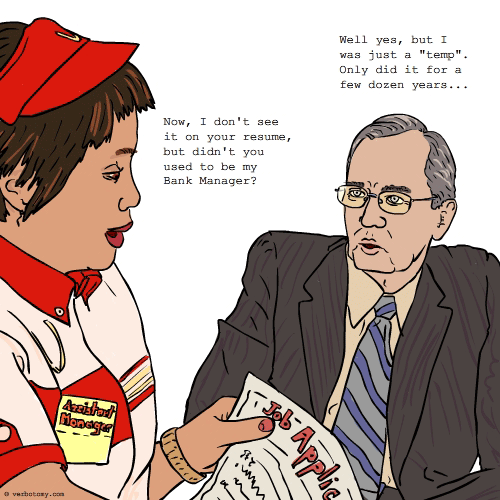 DEFINITION: v. To deny one's accomplishments, or minimize one's abilities in order to obtain a job. n. A resume, or list of qualifications, which has been disembellished and disemboweled to meet extremely low job requirements.
Voted For: Quashification
Successfully added your vote for "Quashification".
Pronunciation: Kw-osh-i-fi-kay-shun
Sentence: Having been made redundant from his job at the city stockmarket, Henry had tried for so many jobs that he had lost count. He decided to try quashification and when asked about his previous employment he would tell any future employer that he was nothing more than the tea boy.
Etymology: Quash(prevent from being expressed or becoming public knowledge) + Qualification(a pass of an exam or completion of a course in order to meet the requirements of a certain job) = Quashification
Points: 1520
Voted For!