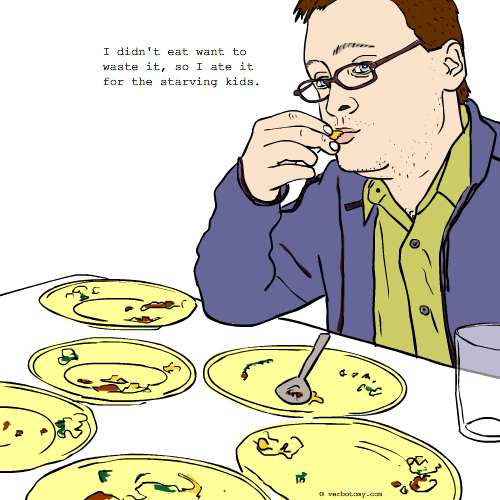 DEFINITION: v., To finish your plate and eat all the food in front of you, even when not hungry. n., Compulsive over-consumption of food in order to relieve guilt.
Already Voted
Vote not counted. We have already counted two anonymous votes from your network. If you haven't voted yet, you can login and then we will count your vote.
---
Fanguish
Pronunciation: Fan-gwish
Sentence: Bob had a nutribent: he always had to chowhole every last crumb from his plate. Was it bingetwinge, culpident or fangpang that consumed him or ayenbite of inwit that drove him? No-one really knew, but some suggested that he was merely a peckadent shamnivore with glut-instinct. But, although, and perhaps, it was just fanguish!
Etymology: Fanguish:fang-tooth & to eat & anguish. Chowhole: blend of chow,whole & hole. Nutriment:food & bent(inclination.)'Ayenbite of Inwit'(Remorse of Conscience)-Kentish work of M English. Peckadent(peck & decadent.)Shamnivore:feigned eater.
Points: 383