Verboticism: Trektarianism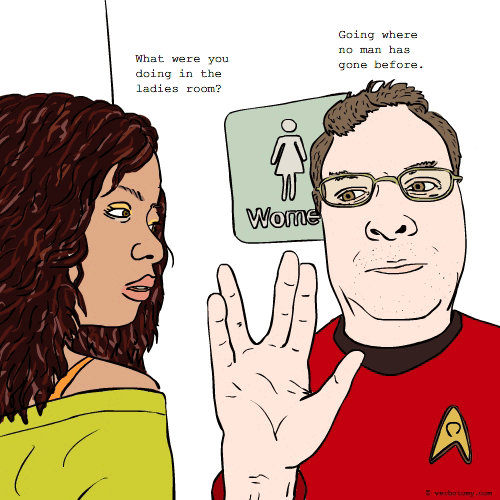 DEFINITION: n. A pop culture entertainment property, which has transcended itself and become a de facto religion with legions of devotees, prescribed rituals and sacred texts. v. To follow a pop culture icon with unquestioning devotion.
Already Voted
Vote not counted. We have already counted two anonymous votes from your network. If you haven't voted yet, you can login and then we will count your vote.
---
Trektarianism
Pronunciation: trek tair ian ism
Sentence: When Jock Spock came out of the ladies washroom at the Star Trek Convention, he gave the Vulcan hand signal and said, "Live long and Prosper". Being a strict follower of trektarianism, he hoped his clever response would divert the ire of the waiting women. It did not.
Etymology: Trek (as in Star Trek, popular sci-fi TV series) & Tractarianism (principles of the founders of the Oxford movement as expounded in pamphlets called Tracts for the Times)
Points: 488