Verboticism: Humdrumantics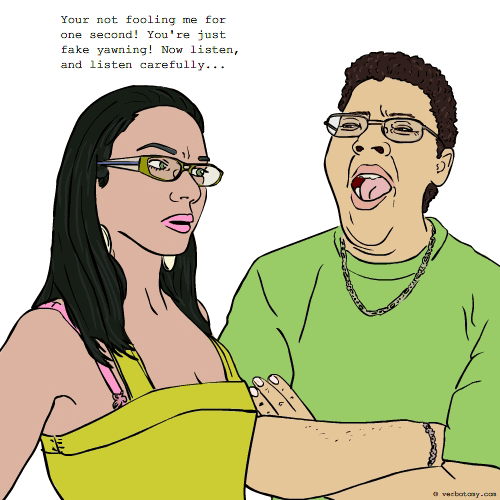 DEFINITION: v., To yawn or sigh repeatedly in an effort to subtly communicate one's lack of interest in the current conversation. n., A series of long, exasperated, and often escalating sighs indicating extreme boredom.
Voted For: Humdrumantics
Successfully added your vote For "Humdrumantics".
Pronunciation: huhm-drum-AN-tiks
Sentence: According to Bob yawning is a trick devised by nature to open a person's mouth as a hint to others to shut theirs. So when Roxie ponderous description of the sex-life of the Patagonian tree-snail started to communigrate, his humdrumantics became more pronounced.
Etymology: Blend of HUMDRUM: lacking variety; boring; dull; routine; monotony. tedious ; ANTIC(S): a ludicrous or extravagant act or gesture & and with -SEMANTICS -in mind: of, pertaining to, or arising from the different meanings of words or other symbols.
Points: 836
Voted For!