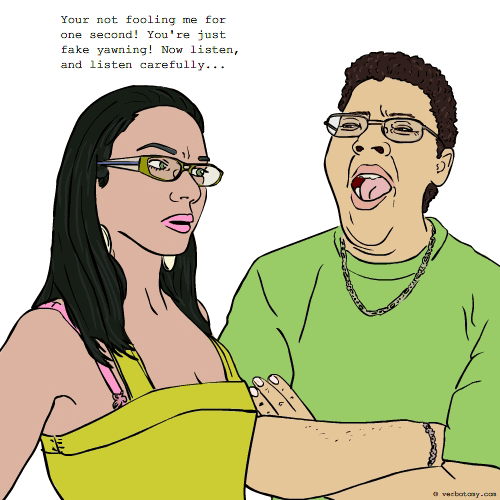 DEFINITION: v., To yawn or sigh repeatedly in an effort to subtly communicate one's lack of interest in the current conversation. n., A series of long, exasperated, and often escalating sighs indicating extreme boredom.
Uvulate
Top verboticism of the day created by verbony
Pronunciation: ewe-view-late
Sentence: The fertilty doctor's explanation of the invitro procedure really made me uvulate.
Etymology: uvula+suff. ate
Created by: verbony.
More Top Verboticisms:
(Invented words created by the Verbotomy Writers)
Sighage: /sahy-age/ We all unconsciously use sighage to politely and subtlely let those who we are talking to, know we are totally bored with the topic of conversation. Etymology: SIGHAGE noun - from SIGH (to let out one's breath audibly from weariness) + SIGNAGE (sign, or symbol; the use of signs and symbols) Created by: Stevenson0.
Humdrumantics: /huhm-drum-AN-tiks/ According to Bob yawning is a trick devised by nature to open a person's mouth as a hint to others to shut theirs. So when Roxie ponderous description of the sex-life of the Patagonian tree-snail started to communigrate, his humdrumantics became more pronounced. Etymology: Blend of HUMDRUM: lacking variety; boring; dull; routine; monotony. tedious ; ANTIC(S): a ludicrous or extravagant act or gesture & and with -SEMANTICS -in mind: of, pertaining to, or arising from the different meanings of words or other symbols. Created by: OZZIEBOB.
Comments:
Excellent! - Mustang, 2008-09-09: 18:54:00
Comyawnicate: /com-yawn-ee-cayt/ no matter how hard i tried to comyawnicate my disinterest, he continued talking. i realised i would have to use more advanced techniques of conversashun. Etymology: communicate, yawn Created by: rikboyee.
Comments:
nice - Jabberwocky, 2008-09-09: 10:14:00
like it - Nosila, 2008-09-09: 19:23:00
terrific - OZZIEBOB, 2008-09-10: 07:02:00
More...
To see more verboticisms for this definition go to: You can't fool me. You're fake yawning.
More Winning Words:
More Verboticisms! See the winning words for: I ate it for the starving kids.