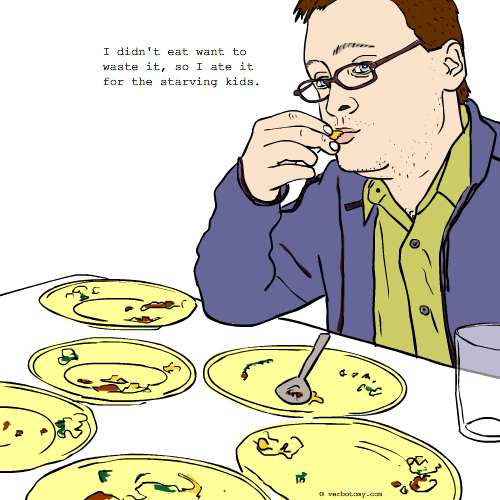 DEFINITION: v., To finish your plate and eat all the food in front of you, even when not hungry. n., Compulsive over-consumption of food in order to relieve guilt.
Compunctuate
Top verboticism of the day created by Nosila
Pronunciation: km punk chu ayt
Sentence: Gary's impulse to compuctuate himself at every meal was no doubt a result of growing up listening to his mother's incessant "Clean up your plate...kids in Africa are starving" rantings.
Etymology: Compunction (a feeling of deep regret (usually for some misdeed) & Ate (fed oneself)
Created by: Nosila.
More Top Verboticisms:
(Invented words created by the Verbotomy Writers)
Hooverize: /WHO-vuhr-eyes/ Timmy The Beard returned from his sojourn in the deep woods and proceeded to HOOVERIZE every edible morsel placed before him. Etymology: HOOVER-a popular brand of vacuum cleaner + suffix "IZE" = HOOVERIZE. Created by: metrohumanx.
Comments:
I just came in at number twenty-five-I'm oh so happy and so glad to be alive. Everybody says i'm gonna get to the top....Life is so easy when your record's hot ! - metrohumanx, 2008-09-12: 15:28:00
Amazing. I zoomed up to #59 in like. 30 minutes.Go figure :) - metrohumanx, 2008-09-12: 16:24:00
As long as he doesn't like to J.Edgar Hooverize...or as they sing in Monty Python's Lumberjack Song..."I cuts down trees, I wears high heels, suspenders and a bra, I wants to be a lady, just like my old Papa!: - Nosila, 2008-09-12: 22:33:00
Timmy the Beard. I think I dated him. :) - lumina, 2008-09-12: 22:49:00
Gormanitarian: /gawr-man-i-tair-ee-uhn/ Joe, the ultimate gormanitarian, was quoted as saying, " I ate six helpings of everything for all the starving children in the world. God bless them and pass the leftover ham and potatoes." Etymology: GORMANITARIAN - noun - from GORMANDIZE (to eat greedily, or ravenously) + HUMANITARIAN (having concern for and helping to improve the welfare and happiness of people) Created by: Stevenson0.
Cleanplateclubitis: /cleen-playt-club-eye-tis/ For years, the threat of no dessert and the empty allure of membership in the 'Clean Plate Club' goaded Stacey into finishing all the food on her plate, even if it meant eating well past the full point into tummy-aching illness. Today, Stacey still suffers from cleanplateclubitis, using garlic bread to scrape up any remaining pasta sauce. Etymology: The Clean Plate Club, insidious coercion technique used by parents of the previous generation(s) to get kids to eat all their food, plus itis, the common suffix related to disease. Created by: astorey.
More...
To see more verboticisms for this definition go to: I ate it for the starving kids.
More Winning Words:
More Verboticisms! See the winning words for: May I ask, what are you doing?