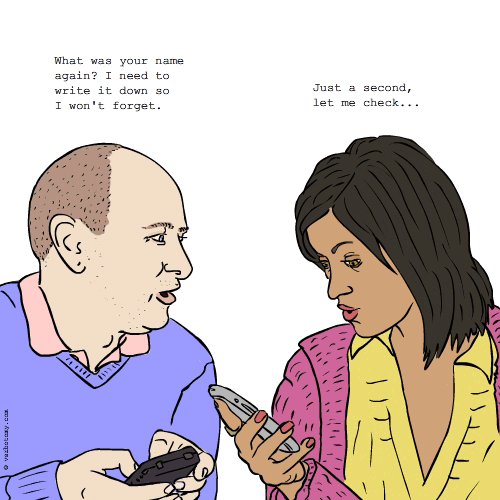 DEFINITION: v. To be so dependent on computers and other gadgets, that you cannot communicate or even think without them. n. A person who cannot communicate, or even think, without using an electronic device.
Brainary
Top verboticism of the day created by petaj
Pronunciation: brain-a-ree
Sentence: Being technically minded, Nerdia, could really only process names and addresses if they were stored digitally in her smartphone. She was the perfect example of a brainary.
Etymology: brain + binary
Created by: petaj.
Comments:
That Nerdia! She really is one zero ... - emdeejay, 2009-04-30: 02:15:00
That Nerdia is a brainiac! - Nosila, 2009-04-30: 18:56:00
More Top Verboticisms:
(Invented words created by the Verbotomy Writers)
Technobsess: /teck-no-ob-sess/ Of course all the slow walking people ahead were slowing her pace down. There should be a law she thought, all those technobsessed people texting while walking should get a ticket, especially the ones stopped dead in their tracks. Those who particularly can't spell and walk at the same time. These are the same people who cannot chew gum and walk at the same time. Etymology: techno (short for technology as in current electronic gadgets) + obsess (to dominate, besiege, control) Created by: remistram.
Idetentee: /Eye Dee Ten Tee/ Paula thought it rather cute (if a little Jobsian) of her friends to refer her as an iDetentee. Being a touch dyslexic, she would often joke back that she was *not* having an iDetentee crisis. Unfortunately this meant she never realised that her friends were really calling her an ID10T. Etymology: i (eye?): An Apple (i)nspired (i)nternet fad to begin the name of anything to do with technology with an (i). Detent: to arrest, detain. Detentee (neol): One who is detained. Idiot: One who crashes car whilst txt'ing on a cell/mobile/pda, for example. Created by: emdeejay.
Comments:
A multilayered verbotomy of true sophistication. Kudos!! - dochanne, 2009-05-06: 01:04:00
Cellshocked: /sell-shockt/ Katie was a terminal cellshocker. Sadly, her boyfriend had resorted to texting her immediately after sex to confirm her satisfaction. Etymology: Cell - phone network. Shocked - acute physical or mental disturbance/state of confusion. Created by: fabdiva.
More...
To see more verboticisms for this definition go to: What was your name again?
More Winning Words:
More Verboticisms! See the winning words for: Why won't you stop the anonymous voting?