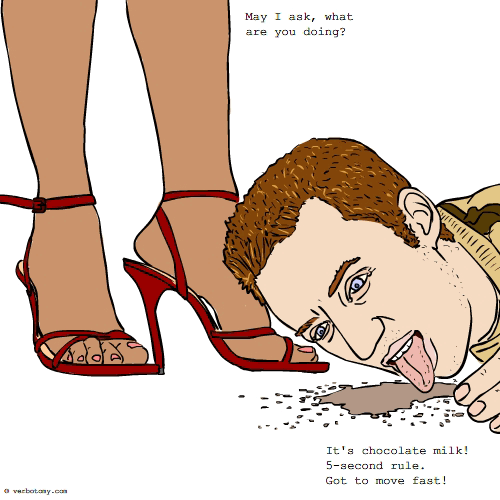 DEFINITION: v., To drop food on the floor, then pick it up and eat it, before anyone else can say "it's too dirty". n., A tasty treat which has been accidentally dropped, then quickly salvaged and savored.
Spotluck
Top verboticism of the day created by lumina
Pronunciation: spot-luk
Sentence: Muffy the poodle had gotten used to the fact that family parties were no longer a smorgasbord of tasty delights. Ever since her family was introduced to the "If you pick it up within five seconds AND kiss it up to God it is clean and safe to eat" by that little brat Megan, Muffy had not enjoyed the family potlucks much anymore. She has settled however for the first hour or so, when all the guests are gone and the Mom person is cleaning up. The spotluck that is left behind by all the "five second" droppings isn't as filling, but almost as tasty.
Etymology: From Potluck: A potluck is a gathering of people where each person is expected to bring a dish of food to be shared among the group.
Created by: lumina.
Comments:
Love it...spot on! - Nosila, 2008-09-30: 22:48:00
Thanks Nose! - lumina, 2008-09-30: 23:37:00
A supremely satisfying sentence....and a lesson for us all. Great job, gemini. - metrohumanx, 2008-10-01: 13:39:00
More Top Verboticisms:
(Invented words created by the Verbotomy Writers)
Antipastogen: /an-ti-pah-stoh-jen/ Antipasto off the plate, or antipastogen off the floor, it didn't bother Tommy. It was FOOD! Etymology: antipasto + pathogen (bacteria) Created by: Stevenson0.
Scoffdrop: /Sk-off-dr-op/ Tim was skilled in the art of scoffdrop, he would spend hours trying to persuade his friends that any food that had accidentally fallen to the floor was perfectly safe to eat, as long as you follow the golden rule. The food must be eaten within five seconds so that any germs do not have a chance to move in on it. Etymology: Scoff(to eat quickly or greedily) ORIGIN Dutch from Schoft 'meal' + Drop(to fall or cause to fall to the floor) = Scoffdrop Created by: TJayzz.
Comments:
Nice sentence, Tjayzz. - metrohumanx, 2008-09-30: 14:18:00
I like it. - OZZIEBOB, 2008-09-30: 17:33:00
Snackuum: /snak-youm/ Judging from the bloody finger he was sporting, it was evident that Bob had a run-in with the dog when he tried to snacuum the chip from the floor. Etymology: snack, vacuum Created by: purpleartichokes.
Comments:
Blend of snack & vacuum. Where will it end, Purps: absolutely love it!!! - OZZIEBOB, 2007-10-11: 05:02:00
I laughed out loud before 8am. You win a prize. Eureka I've found a Hooverchip and a Kirbycake. Great word Purp! - Scrumpy, 2007-10-11: 07:43:00
perfect! - remistram, 2007-10-11: 10:57:00
I guess a group of them would be called a snackuum pack - Jabberwocky, 2007-10-11: 12:31:00
that's a terrific word! - libertybelle, 2007-10-11: 12:37:00
More...
To see more verboticisms for this definition go to: May I ask, what are you doing?
More Winning Words:
More Verboticisms! See the winning words for: Please don't eat that stuff in front of me.