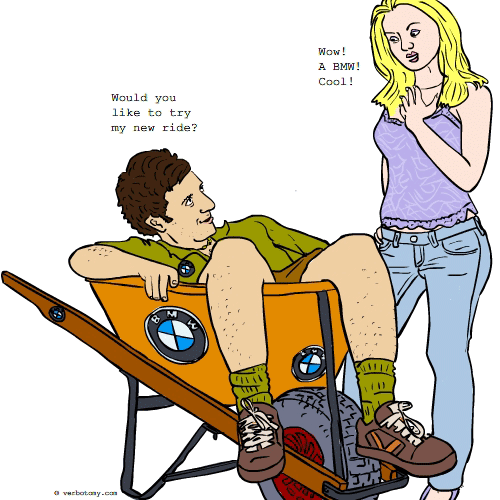 DEFINITION: v. To purchase a low-cost product and cover it with the label, or put it inside the packaging of a premium brand. n. A cheap product, which has been repackaged, or relabeled, by the consumer to make it look like an expensive brand.
Logoflage
Top verboticism of the day created by ErWenn
Pronunciation: -ˈloʊgəˌflaʒ- -LOH-guh-Flahzh-
Sentence: If you can't tell the difference between the logoflaged version and the name brand one, you probably shouldn't spend the extra money on the original.
Etymology: from (camou)flage + logo
Created by: ErWenn.
Comments:
Agree with your perspective on this one! - silveryaspen, 2008-03-03: 09:44:00
Top word! - OZZIEBOB, 2008-03-03: 18:31:00
More Top Verboticisms:
(Invented words created by the Verbotomy Writers)
Christmiss: /Chris Miss/ I was so excited when I unwrapped my gift from Charles. The blue bag could only mean one thing! It was high fashion jewelry! I peeked inside and to my surprise, there was a price tag from a different store and CZ sticker on the ring, I just hate Christmiss! Etymology: Christmas + Dumb people Created by: idavecook.
Counterfeet: /kountərfēt/ John went to the flea market looking for a bargain. He found one vendor selling sports shoes at extremely low prices compared to retail stores. A minor inspection exposed them to be counterfeet. Air Jordons for $20? Another tip-off might have been the Nike "swoosh" being applied with spray paint. Etymology: counterfeit (made in exact imitation of something valuable or important with the intention to deceive or defraud) + feet (plural form of foot) Created by: artr.
Chanot: /Sha-not/ With a few drops of Chanot behind her ears, and a fauxcoat over her Cardont gown she plastered a brilliant smile on her face and prayed that the red carpet crowd would not spot she was faking it. Etymology: Chanel + Not Created by: petaj.
More...
To see more verboticisms for this definition go to: Would you like to try my new ride?
More Winning Words:
More Verboticisms! See the winning words for: Just a second, I have call waiting...