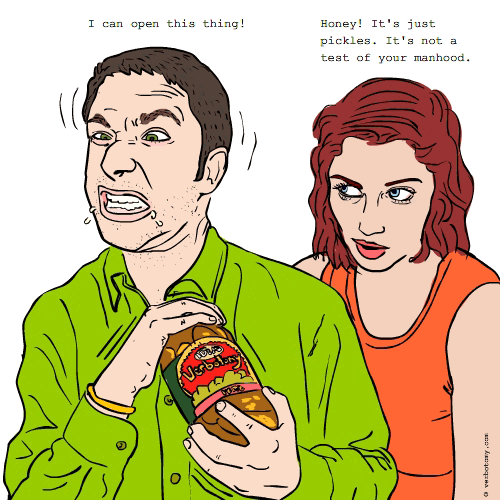 DEFINITION: v., To strain with all your might in a desperate effort to open a sealed container, such as a jar of pickles. n., A small jar which cannot be opened.
Jarchacha
Top verboticism of the day created by OZZIEBOB
Pronunciation: jahr-CHAH-chah
Sentence: Bob found himself totally in a jarchacha, when in front of Mrs Sanchez, who he wanted to emundorosape perfectly, even to her love of Latin-American dancing and body-building, he couldn't, despite straining every muscle, open a jar of gerkins.
Etymology: Blend of Jar & Cha-Cha
Created by: OZZIEBOB.
Comments:
funny - Jabberwocky, 2008-09-26: 15:00:00
More Top Verboticisms:
(Invented words created by the Verbotomy Writers)
Macheesebeau: /mah-cheez-bo/ Judith did her best to never show up at family potlucks, parties, etc. early. She did not want to take the chance that her macheesebeau Ernie might end up in the kitchen with Mom. He didn't know the first thing about cooking. He just liked to impress Mom with his strength. Unfortunately, nine times out of ten, Mom would finally say, "Give that to me!" as she grabbed and with one swift twist opened the jars Ernie had just busted a nut on trying to get open. :) Etymology: Macho Cheeseball Beau Created by: lumina.
Mojar: /mō-ˈ\jär\ / "Give it up already Stanley! Stop trying to Mojar the lid off of the pickles,cuz you're gonna give yourself a hemorrhoid!" Etymology: Mojo (works his mojo on the tennis court ) + Jar Created by: hooterbug.
Comments:
funny sentence - Jabberwocky, 2008-09-26: 15:02:00
Torqueture: /torrk chewer/ The torqueture caused the strain of four muscles and at least two little pickles Etymology: torque torture Created by: galwaywegian.
Comments:
excellent - Jabberwocky, 2008-09-26: 15:02:00
The root of this word must be Torquemada, the Grand Torturer of the Spanish Inquisition! - Nosila, 2008-09-26: 20:24:00
More...
To see more verboticisms for this definition go to: I can open this thing!
More Winning Words:
More Verboticisms! See the winning words for: Oh no!