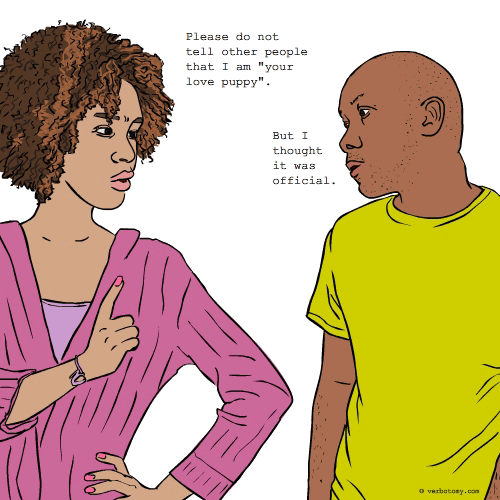 DEFINITION: n. A reprimand, usually given to a "significant other", for improper labeling of the relationship. v. To scold someone for incorrectly describing, at least from your point of view, the state your personal relationship.
Friendchip
Top verboticism of the day created by petaj
Pronunciation: frend-chip
Sentence: Amy's acquaintances had to be very careful how they referred to their relationship with her as she was known for censorial friendchipping.
Etymology: friendship (relationship) + chip (slang for frequent criticisms as in chipping away at"
Created by: petaj.
Comments:
nice word! - galwaywegian, 2009-04-28: 08:51:00
terrific - Jabberwocky, 2009-04-28: 13:34:00
She'd be hard to ketchup with... - Nosila, 2009-04-28: 14:48:00
More Top Verboticisms:
(Invented words created by the Verbotomy Writers)
Berationship: /birāshənship/ Every time he expressed affection, she would detail his foibles. Theirs was less of a relationship and more of a berationship. Etymology: berate (scold or criticize angrily) + relationship (the way in which two or more concepts, objects, or people are connected, or the state of being connected) Created by: artr.
Comments:
best of the day - galwaywegian, 2010-11-10: 13:46:00
Prematuration: /PREE MAT CHOUR ATION/ Boy, get your prematurated ass out of my face! Don't go jumpin' the gun, I'm, not even sure if I'm that into you. Etymology: Premature ejaculation and that fuzzy feeling you get when the sex was really good last night. Created by: idavecook.
Husbanned: /huz band/ When Melinda discovered that her new live-in, Jeff, was telling everyone that she was now his "Old Lady", she husbanned him from using the term! Etymology: Husband (male spouse) & Banned (forbidden, not allowed) Created by: Nosila.
More...
To see more verboticisms for this definition go to: Please do not tell other people that I am your love puppy
More Winning Words:
More Verboticisms! See the winning words for: You got the tattoo!?