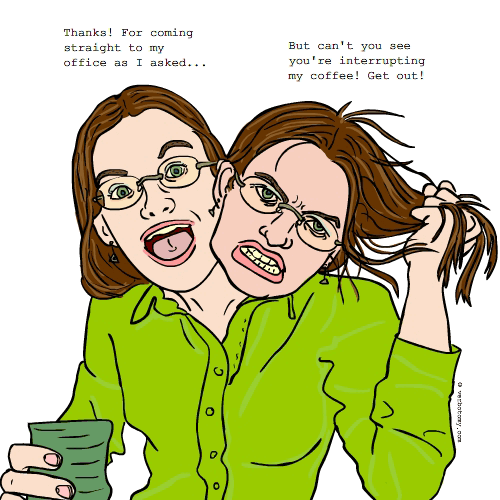 DEFINITION: n. An extremely moody boss, happy one day, mad the next, happy, mad, happy, mad... v. To happily give orders one minute, then angrily yell out the opposite instructions the next. (Note: It's not because you're moody. It's because people don't listen!)
Bipolarbaron
Top verboticism of the day created by purpleartichokes
Pronunciation: bi-pole-ur-bear-un
Sentence: Randy is a bipolarbaron, ruling his staff with an iron fist one day, and a big box of warm fluffy doughnuts the next.
Etymology: bipolar, polar bear (cuz they look so cute until they're killing baby seals), baron - an important industrialist, esp. one with great power in a particular area
Created by: purpleartichokes.
Comments:
I really hope my boss isn't a verbotomist. - purpleartichokes, 2008-04-10: 07:46:00
LOL!!! Good one! I haven't seen this one before~ - abrakadeborah, 2009-05-20: 03:02:00
More Top Verboticisms:
(Invented words created by the Verbotomy Writers)
Birector: /bye-rect-a/ "mmm! will have to think up something creative to go here -- no stuff that who gives a fig about reading clever sentences anyhoo" Birector of Sentencing. Etymology: Director + Bi (as in two-faced BItch) and bipolar Created by: petaj.
Comments:
GET THAT SENTENCE EDITED!!! Or not; you should go with your feelings on this one. - stache, 2008-04-10: 07:59:00
I think that's precisely what the birector of sentencing might say - it would be funny if your verbotomy referred to a judge. - Jabberwocky, 2008-04-10: 11:27:00
Ya think? - stache, 2008-04-10: 19:53:00
Bipoleon: /by-pole-e-on/ Happy-go-lucky, joke-cracking Joyce underwent her usual lunch break metamorphosis today; once she finished her egg salad, the bipoleon suddenly started raining angry spittle and micromanaging with an iron fist. Etymology: bipolar + Napoleon Created by: moonquakes.
Comments:
Tres Bien! - Nosila, 2010-06-16: 07:55:00
Hecklenchide: /hehk-uhl-ihn-chyd/ The boss was a real hecklenchide: one minute she would be playfully teasing, but as soon as you joined in, she would accuse you of being inappropriate. Etymology: heckle (to try to embarrass and annoy, as with gibes.) + chide (reprimand) + inspired by Robert Louis Sevenson's The Strange Case of Dr. Jekyll and Mr. Hyde. Created by: hyperborean.
Comments:
Great word! - mrskellyscl, 2009-05-29: 17:39:00
SHOULD BE THE DAILY WINNER - DrWebster111, 2009-05-31: 12:07:00
More...
To see more verboticisms for this definition go to: Thanks! But can't you see you're interrupting...
More Winning Words:
More Verboticisms! See the winning words for: Are you sure that you don't have athlete's foot?