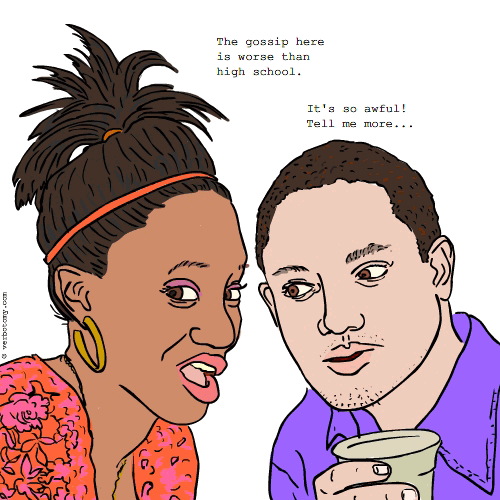 DEFINITION: v. To complain and complain about a problem without ever taking action to correct it. n. A complaint about something which you can fix but choose not to.
Gripeaholic
Top verboticism of the day created by mweinmann
Pronunciation: gri - p - ah - haul - ik
Sentence: Sonora was a gripeaholic and she knew it. She could not stop complaining and her addiction had grown worse. She started a GA group (gripeaholic's anonymous) for people who wanted to stop. Problem was, their meetings turned into "gripefests" and nothing was ever accomplished.
Etymology: Gripe (complain) + alcholic (someone who is addicted to alcohol)
Created by: mweinmann.
More Top Verboticisms:
(Invented words created by the Verbotomy Writers)
Comstain: /com - stain/ Rather than fix the windshield, Peter felt like the spidered glass added a great comstain ice breaker during his car pooling trips. Etymology: Complain - Sustain (sounds offensive but not intended) Created by: Mrgoodtimes.
Groanertia: /gro - nersha/ Jeremiah had to often listen to the groanertia around his office. He was tired of the same old complaints about things that anyone had the ability to remedy. Etymology: groan, intertia Created by: mweinmann.
Moanelude: /mown ee lood/ "Or though I might have come across as a negitive person who always had something to complain about, I actually enjoyed my regular moaneludes because I got to talk to someone." Etymology: Moan - Complain to express dissatisfaction, pain, uneasiness, censure, resentment, or grief; find fault Elude - Avoid knowingly, To evade or escape from, as by daring, cleverness, or skill. Created by: sanssouci.
More...
To see more verboticisms for this definition go to: The gossip around here is awful.
More Winning Words:
More Verboticisms! See the winning words for: Jennifer? You've changed your hairstyle! I like it!