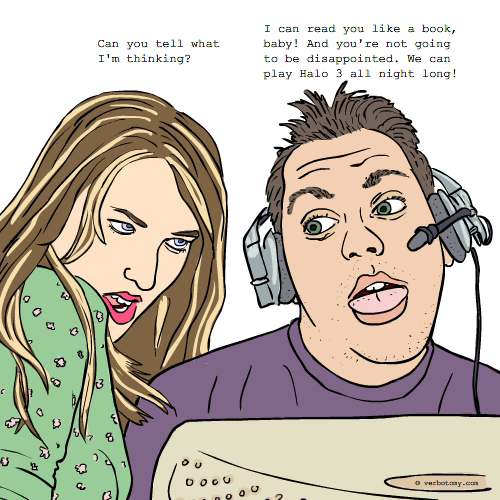 DEFINITION: v., To read a person's face and interpret what they are actually thinking, even if they are trying to conceal their true feelings. n., The skill of reading people's faces, especially micro-expressions.
Eyeballistic
Top verboticism of the day created by lumina
Pronunciation: i-bol-is-tic
Sentence: There was no hiding anything from Kreskin. No matter how skilled one was at hiding emotions from most, if Kreskin was in the room, the person knew the jig would soon be up. Yup. He was a natual born eyeballistic, who some times infuriated those trying to "smile and wave."
Etymology: Eyeball. Ballistic-To become very angry or irrational.
Created by: lumina.
Comments:
Eye get it...good word! The eyes have it. - Nosila, 2008-10-16: 23:57:00
Remember Uri Geller? - metrohumanx, 2008-10-23: 17:24:00
More Top Verboticisms:
(Invented words created by the Verbotomy Writers)
Facesper: /Faces per/ She would sit in the middle of pedestrian traffic and be engulfed in emotion, her delicate talent facespering strains of thoughts from the expressions of strangers that streamed past her like writhing eels in a current. A facesper like her had a tendency towards a delicacy in bone structure and diminutiveness in size, as if the swell of emotion splayed on the faces of the world caused the body to shrink inwards. Facesperate attempts by non-sensitives were the subject of ridicule by true facespers. Etymology: Face (anterior part of the skull) & ESP (Extra Sensory Perception)& -er (one that has) Created by: zxvasdf.
Comments:
I like how you incorporated the ESP into your word - Jabberwocky, 2008-10-16: 15:54:00
What a beautifully lyrical sentence. Bravo! - metrohumanx, 2008-10-17: 12:24:00
Miensavvy: /meen-SAV-ee/ It seems that even without someone speaking, but just thinking about speaking, Roxie was able to interpret their faciaguile and see through their emociopacity with ease. Call it prosoperspicacity or - in layman's language - mugnous; or perhaps, even better, miensavvy, she could read others like an open book. Etymology: blend of MIEN; Bearing or manner, especially as it reveals an inner state of mind: MENSA(?):M-, the name of an organization for people of IQs of 148 or more founded in England in 1946, & SAVVY.: Well informed and perceptive; n. shrewdness; practical understanding Created by: OZZIEBOB.
Comments:
great sentence - Jabberwocky, 2008-10-16: 15:55:00
Very good. Clever wording in your sentence. - Mustang, 2008-10-16: 19:40:00
WOW- A whole buncha bonusisms there- all for the price of one. Good Word, and even better sentence. - metrohumanx, 2008-10-17: 07:52:00
Corrictus: /core-ick-tus/ Suzanne was not known for her poker face, but when her best friend eagerly unzipped a garment bag to reveal a hideous maid of honor dress intended for Suzanne, she tried to hide her horror. In spite of the typical bride narcissism, Tory took one look at Suzanne's corrictus and started to cry. Etymology: Correct + rictus, which means a facial expression that is an open-mouthed grimace. Created by: astorey.
Comments:
The poofy sleeves, the colour you least suit, the sheer unrewearability of the briddesmaid gown...why oh why do they do it? Do they really think an ugly bridesmaid outfit makes the bride look better??? Think again! - Nosila, 2008-10-17: 00:04:00
Quite jolly! - metrohumanx, 2008-10-17: 06:20:00
More...
To see more verboticisms for this definition go to: I can read you like a book, baby!
More Winning Words:
More Verboticisms! See the winning words for: If we buy 100 we'll save over $7000!