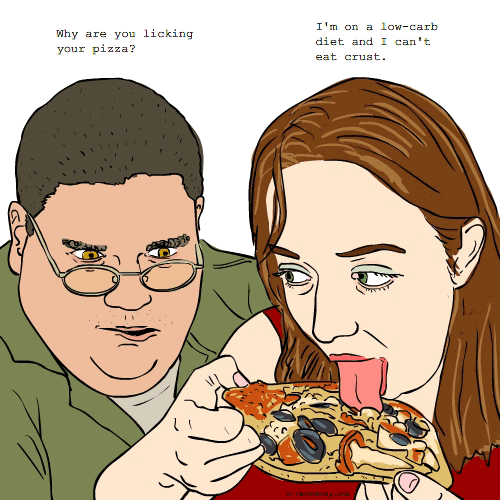 DEFINITION: v. tr. To eat in a peculiar or ritualistic manner in an effort to lose weight while consuming more. n. An idiosyncratic method of eating, usually adopted for "health reasons".
Eggcentric
Top verboticism of the day created by artr
Pronunciation: egsentrik
Sentence: Walt has tried every diet he can find in an effort control his weight. He\'s tried the grapefruit diet, the caveman diet and the raw food diet. His latest is the eggcentric diet. It is touted as a **rebirth** experience. Any food or drink is allowed as long as it involves eggs. Steak & eggs; fine. Eggnog; sure. Coffee; not so good.
Etymology: egg (an oval or round object laid by a female bird, reptile, fish, or invertebrate, usually containing a developing embryo) + eccentric (unconventional and slightly strange person or their behavior)
Created by: artr.
Comments:
eggselent word - galwaywegian, 2010-01-14: 07:48:00
More Top Verboticisms:
(Invented words created by the Verbotomy Writers)
Snactkins: /sn - akt - kins/ Rosalie decided to go on the Snactkins diet. It was based on the Atkins diet but it allowed her to act like she was on a diet, while eating little snacks 10 times a day. Etymology: snack, act, Atkins Created by: mweinmann.
Comments:
very clever - mrskellyscl, 2010-01-14: 09:40:00
I feel like having a snack now... - Nosila, 2010-01-14: 21:50:00
Vegebation: /veg-uh-bey-shun/ Vegebation is the peculiar ritual Tiffany practises. She only drinks her food. She juicers all her vegetables and tofu together and drinks her meals to prevent wear and tear on her teeth and reduce facial aging lines from chewing. Vegebation is also part of the 'X-Man' cultasy which proclaims that this activity will reduce the side effects of youthanesia. Etymology: vegetarian + libation; vegebation -n. An idiosyncratic method of eating, usually adopted for "health reasons". Created by: Stevenson0.
Comments:
veganomics - Nosila, 2010-01-14: 15:49:00
Gourmandate: /goŏrmändāt/ Rudy has tried every diet that has come down the pike. The latest? The gourmandate. You eat as many dates as you possibly can on the theory that you overwhelm the digestive system so that it can't possibly process the excess. Has he lost any weight? What do you think? Etymology: gourmand (a person who enjoys eating and often eats too much) + mandate (an official order or commission to do something) + date (a sweet, dark brown, fruit) Created by: artr.
More...
To see more verboticisms for this definition go to: Why are you licking your pizza?
More Winning Words:
More Verboticisms! See the winning words for: Going where no man has gone before.