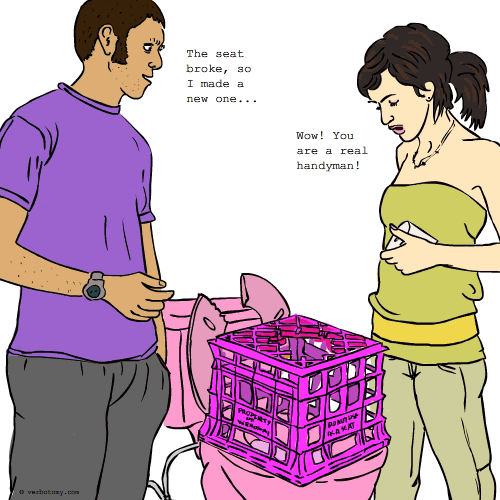 DEFINITION: n. The creative, yet blatantly illegal use of plastic milk crates, and the latent fear of prosecution associated with this alleged crime. v. To create and build home furnishings using stolen milk crates.
Gocartons
Top verboticism of the day created by silveryaspen
Pronunciation: go cart ons
Sentence: Con Taynor filched milk crates from the supermarkrate where he unloaded delivery trucks. He fabricrated appealing boox cases from the stolen milk crates and sold them at bargain rates. However, Con did not get rich until he put a seat, wheels, and an engine on one of those plastic milk crates, and made them into gocartons!
Etymology: To FABRICATE from CRATES = FABRICRATE. BOOKS in BOXES = a BOOX case. GO-CART made from a milk CARTON = GOCARTON. --- It was hard not to make fabricrate the chosen verbotomy, but there were/are already enough with crate in the etymology, so I went with gocarton.
Created by: silveryaspen.
Comments:
so many terrifc verbotomys today - excellent - Jabberwocky, 2009-04-03: 12:33:00
Excellent word, silvery...gocarton, gocarton, gocarton, go...sounds like a Beach Boys Anthem! - Nosila, 2009-04-04: 00:10:00
More Top Verboticisms:
(Invented words created by the Verbotomy Writers)
Craterape: /CRATE rape/ I felt tricked into being involved in something vile. John, my roommate, had suggested that I carry my groceries home in a milk crate. "People do it all the time," he had said. And he promised he would bring it back for me. But once we got home he got lazy about taking it back and instead decided to recreate the milk crate into a part of his new bookshelf. Feeling quite clever, he morphed it into something unrecognizable. His craterape was the last straw in our ongoing stressful existence under the same roof. Etymology: CRATE + RAPE+ DATERAPE RAPE: to plunder (a place); despoil; to seize, take, or carry off by force Created by: kateinkorea.
Comments:
terrific story - Jabberwocky, 2009-04-03: 12:30:00
crate ending, too! - silveryaspen, 2009-04-04: 09:03:00
Archilactotect: /ark-eh-LAC-to-tekt/ Bertrand was a first class archilactotect and having unlimited access to serviceable milk crates he kept himself busy designing and creating many useful if somewhat questionable devices and structures. Etymology: Blend of 'architect' (the deviser, maker, or creator of anything) and the prefix 'lacto' (a combining form meaning "milk," used in the formation of compound words) Created by: Mustang.
Comments:
love it - Jabberwocky, 2009-04-03: 12:30:00
Super! - silveryaspen, 2009-04-04: 09:00:00
Crateblanche: /crat - blan - sh/ David went around acting as if he had crateblanche to steal and use milk crates. He blatently used them as furniture, totes and even in the artwork that he exibited in craft fairs. Etymology: Crate and Play on Carte Blanche (complete authority to act) Created by: mweinmann.
Comments:
wonderful - Jabberwocky, 2009-04-03: 12:30:00
funtastic! - silveryaspen, 2009-04-04: 09:02:00
More...
To see more verboticisms for this definition go to: The seat broke, so I made a new one...
More Winning Words:
More Verboticisms! See the winning words for: Look Daddy! A pink and yellow one!