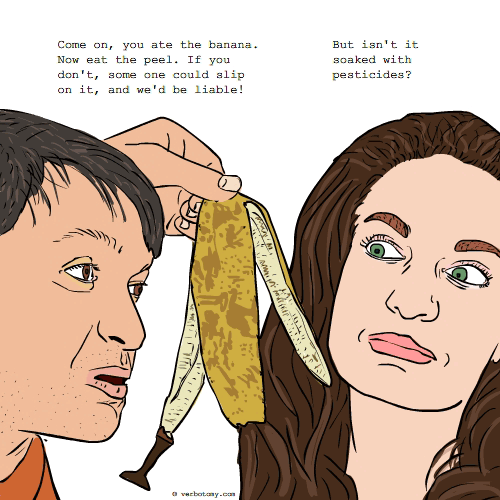 DEFINITION: n., The fear of eating the skins of fruits, vegetables, or small animals. v., To worry about saving one's skin while chewing on a rind, peel, or pelt.
Repulskin
Top verboticism of the day created by Stevenson0
Pronunciation: ri-puhl-skin
Sentence: Jenny has suffered from the dreaded phobia of repulskin since early childhood. She can't eat apples, grapes, nectarines, or especially fuzzy peaches, or any other fruits unless all the skin is completely peeled off.
Etymology: REPULSKIN - noun - from REPULSION (distaste, repugnance, or aversion by the thought, or presence of something) + SKIN (the external covering of an animal body, fruit, or vegetable)
Created by: Stevenson0.
More Top Verboticisms:
(Invented words created by the Verbotomy Writers)
Huskfright: /husk-fry-t/ Nooooooo, I just can't bear the thought of accidentally getting corn silk in my teeth. It's a bad case of huskfright Etymology: husk (outer covering) + fright Created by: petaj.
Comments:
corny...but cute - Nosila, 2010-02-03: 10:46:00
Repeelant: /ree-peel-ant/ Nadia could still see her father picking the skin off a baked chicken, slurping it into his mouth and smacking his lips. Ew. While Nadia tried to blame her repeelant attitude on her father alone, she did, at times, acknowledge her own role. In a three-month stint as a server at TGI Fridays, Nadia served enough Loaded Potato Skins (tm) to make her repeelant complete and irreversible. Etymology: Repellant combined with peel. Created by: astorey.
Revoldermis: /Rev-ol-dur-miss/ Mary,s mum had always made her eat the skins of her baked potatoes even thogh she couldn't bear them as she found them dry and tasteless. Now that she had left home she no longer had to suffer revoldermis as she took great delight in leaving the skins on the side of her plate without having her mum breathing down her neck. Etymology: Revolting + Dermis( the thick layer of skin below the epidermis) = Revoldermis Created by: TJayzz.
More...
To see more verboticisms for this definition go to: Come on, you ate the banana. Now eat the peel.
More Winning Words:
More Verboticisms! See the winning words for: You've done such a good job emptying your beer bottles.