Vote for the best verboticism.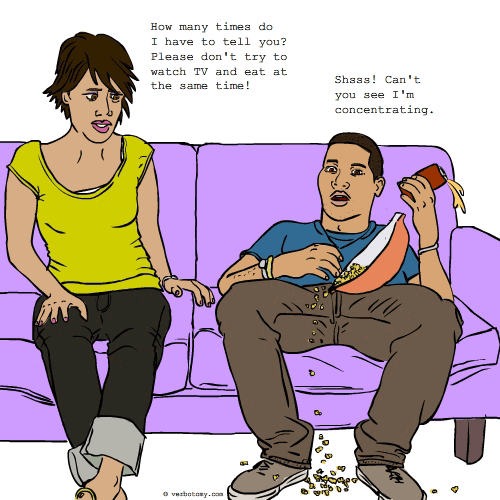 DEFINITION: n. A person who gets completely disoriented whenever they try to do more that one thing at a time. v. To make a big mess because you are trying to do too many things at once.
Verboticisms
Click on each verboticism to read the sentences created by the Verbotomy writers, and to see your voting options...
You have two votes. Click on the words to read the details, then vote your favorite.
Created by: rikboyee
Pronunciation: jug-ul-putz
Sentence: Juggleputz wasn't a clever word but it did seem to sum things up and i was trying to make dinner and look after the kids while verbotomizing, so if i spent too long trying to think of a cleverer word i was bound to make a complete juggleputz of myself.
Etymology: juggle, putz
----------------------------
COMMENTS:
how truly funny and realistic, plus nice to see a sentence from you, backing up your great word(s) - DrWebster111, 2009-05-13: 19:52:00
Good Job! Keep up the sentences :) It's 11 points to complete all areas! You got my vote! - abrakadeborah, 2009-05-14: 11:14:00
----------------------------
Created by: Koekbroer
Pronunciation: moh noh tas ker
Sentence: Doug is such a monotasker, he just spilled his nachos because the movie started.
Etymology: mono + task
Created by: wizzbritt
Pronunciation: Mul-tee-fay-ul
Sentence: I tried to brush my teeth while feeding the baby and jogging on the treadmill but ended up multi failing.
Etymology: Multi: more than one Fail: be unsucessful
Created by: artr
Pronunciation: skatərtaskng
Sentence: Tom believes he is good at multitasking. Anybody near him knows that scattertasking is closer to the truth. If he has more than one thing to do at a time someone is going to be hurt, usually Tom. He's been known to scald himself with hot coffee, staple his fingers, poke himself in the eye with his cell phone and stab himself with a pencil, all before his computer could boot up.
Etymology: scatter (throw in various random directions) + tasking (a piece of work to be done or undertaken)
----------------------------
COMMENTS:
LMAO! You're so FUNNY! GREAT word! - abrakadeborah, 2009-05-14: 10:53:00
Hey Buddy VOTE for some people on here every once in a while :) Not asking for myself pick words YOU like~ - abrakadeborah, 2009-05-14: 10:55:00
----------------------------
Created by: Nosila
Pronunciation: dis oree ent ex pres
Sentence: Between operating the TV remote, eating, drinking burping and talking on the phone and to the TV set, Bruno was working the disorientexpress. He set the record for making the fastest mess on the couch for his wife Debbie to try and clean, as she cooked dinner, watered the plants, did the laundry and dishes,fed the pets, balanced the books, vacuumed and got tomorrow's lunches for everyone ready. It's true, a woman's work is never done...
Etymology: Disorient (confuse, muddle,flummox) & WordPlay on Orient Express (The Orient Express is the name of a long-distance passenger train service originally operated by the Compagnie Internationale des Wagons-Lits. It ran from 1883 to 2009, from Paris to Istanbul.)
Created by: Nosila
Pronunciation: am bee mess truss
Sentence: Most women who are charged with a career, raising a family and keeping a home are ambidextrous multitaskers. Unfortunately, opposites attract, so they tend to get mates who are ambimesstrous. While the woman feeds a baby, irons a shirt for work, packs the lunches, cooks breakfast and ices the cupcakes for kindergarten, the husband stands in front of an open fridge, in front of the milk, shouting "Honey, where's the milk to put in my coffee, I can't see it anywhere?" He's not dressed yet, because she has not told him what to wear and where to find it and he ignores the starving cat and dog, who just want fresh water and food. They know that Mom will get it for them in a moment...
Etymology: Ambidextrous(equally skillful with each hand) & Mess (a state of confusion and disorderliness; informal terms for a difficult situation;make a mess of or create disorder in)
----------------------------
COMMENTS:
Very funny! :-) - emdeejay, 2009-05-13: 02:35:00
I can identify. - Mustang, 2009-05-13: 07:57:00
----------------------------
Created by: Jabberwocky
Pronunciation: mull/tee/bas/ket/case
Sentence: Sam was a complete multibasketcase whenever Sally asked him to help with the housework. In the end it was safer to do it on her own.
Etymology: multitask + basket case
----------------------------
COMMENTS:
Good one! - Nosila, 2009-05-13: 19:19:00
So true Jabber! Kudos to you again! :) - abrakadeborah, 2009-05-14: 10:34:00
----------------------------
Created by: artr
Pronunciation: muhl-tee-tak-sing
Sentence: Nobody wants to admit how slow-witted Jeremy is, afterall, he is the boss. Doing more than one thing at a time is multitaxing for him. He often has to hold his breath to form a thought.
Etymology: multitasking (the carrying out of two or more tasks at the same time by one person) + taxing (to make heavy demands on; strain)
Created by: aljoseph
Pronunciation:
Sentence:
Etymology: multi plus crash
Created by: logan260
Pronunciation: shatt-ur-scat-urd
Sentence: Man, you are so "shatterscattered"....every time you try to do more than one thing, you screw em both up.
Etymology: shattered--obvious scattered--someone who is experiencing mental disarray.