Vote for the best verboticism.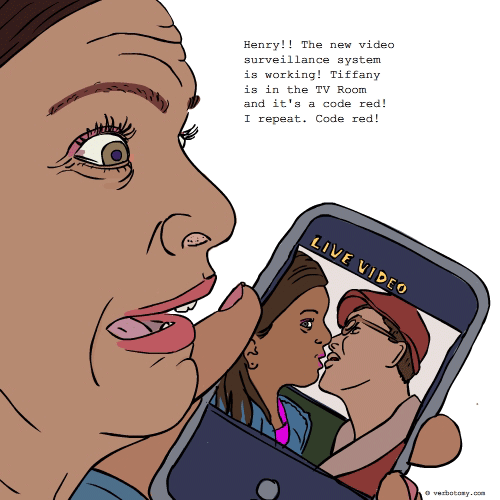 DEFINITION: n. The uneasy comfort that comes from knowing that your family, your friends, the police, the taxman, and every marketer in the world, are using the newest technology track your every move. v. To lose your privacy due to technology.
Verboticisms
Click on each verboticism to read the sentences created by the Verbotomy writers, and to see your voting options...
You have two votes. Click on the words to read the details, then vote your favorite.
Created by: TJayzz
Pronunciation: Cam-zy-ity
Sentence: When Jim discovered that his every move was being tracked by the latest 'all seeing' surveillance system, he went into a complete state of camxiety and locked himself in the cupboard under his stairs for a week.
Etymology: Blend of Cam(short for camera) and anxiety
Created by: Nosila
Pronunciation: Int ter net rood
Sentence: When Paris gave her farmer's wife Mom a communication/video surveillance device for Christmas, she thought it was good for her Mom to phone or text people and feel protected in her home. She thought it was cute how slowly Mom embraced any new-fangled gadgetry. Little did she know that Mom's new toy gave her the ability to internetrude on Paris's active love life. How you gonna keep them down on the farm after they've seen Paris???
Etymology: Internet (a computer network consisting of a worldwide network of computer networks that use the TCP/IP network protocols to facilitate data transmission and exchange) & Intrude (enter uninvited) & Rude (socially incorrect in behavior;lacking civility or good manners)
Created by: readerwriter
Pronunciation: fays-spookt
Sentence: Frank, was...well, frankly, freaked. Obviously, he hadn't thought through the consequences of who he accepted as friends on Facebook. And now, his English teacher from 8th grade was correcting his grammar! At 7.35AM that morning, to answer, "What are you doing right now?" Frank had said, "I can't get no satisfaction." By 7.37AM, Miss Primm had commented, "Frank, it is 'I can't get any satisfaction.' Remember our lessons on the double negative?" He was getting Facespooked!
Etymology: Playing on FACEBOOK + SPOOK, to haunt, scare, frighten
----------------------------
COMMENTS:
-excellent word; LOL sentence! - splendiction, 2009-02-27: 18:40:00
----------------------------
Created by: splendiction
Pronunciation: snoop see o lo gy
Sentence: The trusted Dr. C Awl's latest podcast of his students' latest studies into what people do when they think nobody's looking reached a conclusion that privacy no longer exists. Further research by the observed snoopsyologist will undoubtedly uncover even less about what we already know, or want to know, about people we don't know. Dr. C. Awl does contend thick presence of various forms of surveillance will eliminate "gossip", or "hearsay" as well as "curiosity" as eventually all will be heard and seen by all. The only really safe people will be the deaf and blind.
Etymology: From snoop (to spy on) and "ology" (any branch of knowledge or a science.)
----------------------------
COMMENTS:
Dr. C Awl, snoopsyologist, was a great create! - silveryaspen, 2009-02-28: 16:09:00
----------------------------
Created by: Bughunt
Pronunciation: tek-noe-track-ing
Sentence: With technotracking, we can make sure your safe, your families safe, and prevent you from using competing devices! What comfort!
Etymology: techno from technology. + tracking.
Created by: abrakadeborah
Pronunciation: big-broth-er-busted-ya
Sentence: Crystal knew there were video cameras watching her yet,she forgot as her boyfriend Romeo went in for the big first kiss. The next thing she knew loud horns started blowing and the lights brightened and flickered on and off! Her Dad Henry walked in and said,"Crystal I told you I had the security company come in...so now you can't get away with having boys over because the surveilance system has a feature that sounds alarms when "Bigbrotherbustedya" motion detetectors go off" YOU are grounded!
Etymology: Big Brother;The surveillance cameras that watch everything you do...Busted;Got caught! Ya;YOU.
Created by: feltcap
Pronunciation: pan äp′tek näl′ə jē
Sentence: He always felt as if he had been born a generation too late, listening to the older gentlemen at work talk about their younger years. Running red lights, toilet papering neighborhoods, the list went on and on. You couldn't get away with things like that these days, there are cameras everywhere - panoptechnology recording your every move.
Etymology: panoptic - including in one view everything within sight, a reference to Foucault's panopticon, a prison set up to monitor prisoners at all times, technology - applied science
Created by: SeepyG
Pronunciation:
Sentence:
Etymology:
Created by: Nosila
Pronunciation: mon i tor men ted
Sentence: Give me the good old days, thought James, as he rocked in his Lazy Boy. The Cold War days when spies earned an honest living following people while remaining invisible themselves. The days when the hunt was part of the excitement of your job, relying on your own wits and instincts. Matching wits with other clever humans and assassinating them when needed. Nowadays, it was all electronic, electronic, electronic...satellites that could fly over the planet and take pictures so minute, you could see your street, house and color of the eyes in your face from outer space, in real time. Red light and CCTV cameras that could watch you anywhere out in public. Blackberries, cellphone cameras and any number of devices which got tinier every month, meant to keep you connected to someone, somewhere, everywhere. Yes, he thought, people today were monitormented. Thank God, I am retired from all that, he thought, even though we in the business invented these ideas. "Come along, Mr.Bond, the computer says you need to have your sponge bath, your 18 pills and your bowel movement", said the cheerful, matronly caregiver employed at SMERSH,the Sunset Maximum-Security Espionage Retirement Secret Home.
Etymology: Monitor (to watch, observe;keep tabs on; keep an eye on; keep under surveillance;a piece of electronic equipment that keeps track of the operation of a system continuously and warns of trouble; display consisting of a device that takes signals from a computer and displays them on a CRT screen)& Tormented (the act of harassing someone; extreme mental distress; a feeling of intense annoyance caused by being tormented)
----------------------------
COMMENTS:
Excellent, Ms Moneypenney! - metrohumanx, 2009-02-27: 05:02:00
Spytacular! - silveryaspen, 2009-02-27: 11:24:00
If you think about it, Ian Fleming wrote the series after WW2 and in the fifties. They say he based the character part on himself and part on George Stevenson, the Canadian mastermind known as the Man Called Intrepid. If that was true, James was at his early pique of 30 years old in the early fifties, which would make him at least 89 years old in real life today, assuming he survived all the sanctions against him. All that Sodium Penthathol fended off Alzheimer's! - Nosila, 2009-02-27: 23:02:00
Excellent!! Best of the day! - Mustang, 2009-02-28: 03:02:00
----------------------------
Created by: petaj
Pronunciation: pervasive computing
Sentence: I feel so much safer, yet somehow exposed with all the perveasivecomputing keeping track of me.
Etymology: perve (to spy on) + pervasive computing (technology everywhere)
----------------------------
COMMENTS:
short sentence but so powerful! Plus a perve-ectly great verbotomy! - silveryaspen, 2009-02-27: 11:23:00
----------------------------