Vote for the best verboticism.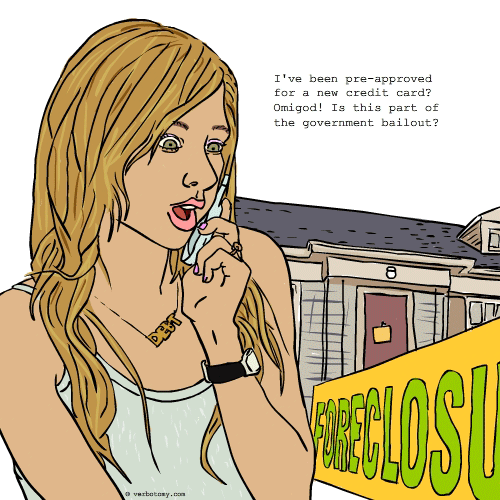 DEFINITION: v. To offer pre-approved credit, loans or sweepstake prizes in order to lock the some poor sucker into permanent usury. n. Junk mail, spam or telemarketing offers for pre-approved credit and loans.
Verboticisms
Click on each verboticism to read the sentences created by the Verbotomy writers, and to see your voting options...
You have two votes. Click on the words to read the details, then vote your favorite.
Created by: splendiction
Pronunciation: bank rupt yee
Sentence: "SCAM mail coupons for fast, easy, credit! Our promise is to bankruptyee with any use! (For best results, use consistently). Now offered: specials that will keep you in the red forever!"
Etymology: bankruptyee v. From bankruptcy (to declare insolvent) and "ye" - old term for you (second person singular). Meaning: to "bankrupt" an individual.
Created by: karenanne
Pronunciation: len DAYN jer
Sentence: Aiyo Yu keeps getting calls from PityBank (motto: "We Want to Help You Feel Forever In Our Debt") offering her the "opportunity" to roll her balances on other cards "free of charge" into the card she holds from this particular company. She also gets mailings from the same company inviting her to apply for various-sized loans that would pay off all her debts and give her "just one convenient monthly payment." These lendangering practices are helping a lot - helping PityBank, that is. She doesn't seem to realize that rolling all your outstanding debts into one payment is only helpful if you actually pay down the balance every month, and don't run up new balances. Most of her paycheck is a lendangered species at this point.
Etymology: endanger + lend
----------------------------
COMMENTS:
An all-too familiar tale, sadly! - Nosila, 2010-09-07: 21:10:00
----------------------------
Created by: artr
Pronunciation: teləshärkiting
Sentence: Jill screens all her calls. She has her roommate sort through her mail, because she has found that she is far too susceptible to telesharketing. Next she may have to give up watching television.
Etymology: telemarketing (the marketing of goods or services by means of telephone calls, typically unsolicited, to potential customers) + shark (a person who unscrupulously exploits or swindles others)
----------------------------
COMMENTS:
:) - galwaywegian, 2010-09-07: 04:58:00
----------------------------
Created by: metrohumanx
Pronunciation: CARROTn-schtick
Sentence: Debbie Terwilliger pounced on any free offer, no matter how unlikely. At her college, sleazy agents handed out credit cards by the bushel, and DebT grabbed a handful. She fell for the old CARATNSCHTICK everytime, and now she's getting a pedicure in debtor's prison.
Etymology: CARAT+n+SCHTICK=CARATNSCHTICK..........CARAT:a unit of fineness for gold equal to 1⁄24 part of pure gold in an alloy.....CARROT:a reward or advantage offered especially as an inducement; Middle French carotte, from Late Latin carota, from Greek karōton.....SCHTICK: a usually comic or repetitious performance or routine; Yiddish shtik pranks, literally, piece, from Middle High German stücke, from Old High German stucki; akin to Old English stycce piece, Old High German stoc stick.....carrot and stick:The carrot and stick approach was first used by owners of donkeys in order to keep their animals moving. Whenever the animal stopped, the rider used to dangle a raw carrot in front of the animal's nose, or beat it with the stick.
Created by: galwaywegian
Pronunciation: blond issss ew
Sentence: The bank offered a blondissue which, if you didn't read the small print, was to dye for.
Etymology: bond issue, blonde
Created by: GlobalGallery
Pronunciation: whats-myne-iz-jawz
Sentence: "Eehh! No praablem, wotsmineisjaws" uttered Rodrigo as he handed the crisp new fifty dollar bills over to his desperate customer. "But you know the score man, it's a nickel on the dollar for every day you owe me...RIGHT!".
Etymology: The words of a loan shark.
Created by: Pseudonym
Pronunciation: mail-FEEZ-ance
Sentence: The cell phone contract that I "won" seems to be a case of mailfeasance.
Etymology: mail + malfeasance
Created by: readerwriter
Pronunciation: uh-sceem-uh-tuh-rihp-u
Sentence: The Blandit Brothers knew Disney litigators were on the way, but they were going to get away with it as long as they could. The BBs were sending the song to cell phones with voice-over promises that budding American Idiots could have a direct link to Simon Coward. Here was the song and lyrics played in the background: Aschemataripu! What a wonderful phrase... Aschemataripu! Ain't no passing craze... It means no worries For the rest of your days It's our problem-free philosophy Aschemataripu!
Etymology: A direct rip off from "Hakuna Matata," a song from Disney's The Lion King!
Created by: rombus
Pronunciation: kred + det
Sentence: Lonnie just got a new credebt card. It gives him so much credit at such a high rate that he will never get out of debt.
Etymology: Credit and Debt - Credit (money made available to borrow) and Debt (the state of owing something)
----------------------------
COMMENTS:
Meaning readily apparent, easy to say, a perfect pun, and sticks in the memory. Absolutely Brilliant! - silveryaspen, 2009-02-24: 14:34:00
That's probably how they spelled it originally...good word - Nosila, 2009-02-24: 21:59:00
----------------------------
Created by: DnBrown
Pronunciation:
Sentence:
Etymology: