Vote for the best verboticism.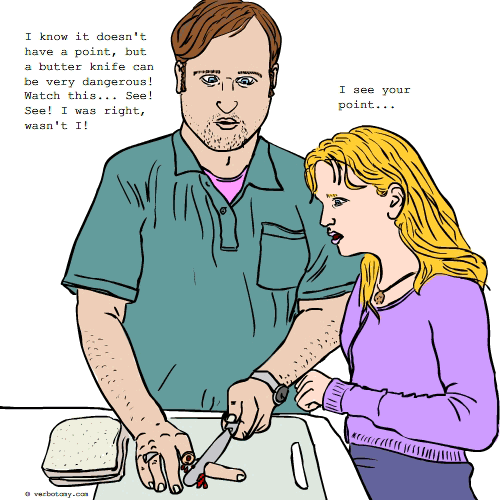 DEFINITION: n., The immense sense of self-satisfaction the one gets from winning a pointless argument. v., To be so addicted to proving yourself right that you argue compulsively, and endlessly, about anything and everything.
Verboticisms
Click on each verboticism to read the sentences created by the Verbotomy writers, and to see your voting options...
You have two votes. Click on the words to read the details, then vote your favorite.
Created by: mweinmann
Pronunciation: Fa - low - vik - toe - ree
Sentence: It was another fallowvictory for Ted. He had proven to his doubting neighbors that he could back his SUV into the garage blindfolded. It would take the better part of the summer to reconstruct the new family room addition that shared its back wall. Nevermind, Ted thought.... he decided to bask in the satisfaction that he was right, once again.
Etymology: Fallow (cultivated land that is not seeded or productive; undeveloped but potentially useful; condition of being unseeded) + Victory (state of having triumphed; defeat of enemy or opponent)
----------------------------
COMMENTS:
love it - Jabberwocky, 2008-11-11: 08:03:00
----------------------------
Created by: JusMeLP
Pronunciation: Ob-KNOCKS-U-MEANT
Sentence: He is such an obnoxument human!!
Etymology: Obnoxious + Argument
Created by: Jabberwocky
Pronunciation: dee/bate/a/bull
Sentence: He was so inflated by his need to be confrontational that he would even argue with the cat. Even the time of day was debatabull.
Etymology: debatable + bull****
----------------------------
COMMENTS:
Now THAT stinks. But it's a great verboticism - Mustang, 2008-11-10: 06:52:00
Excellent! - TJayzz, 2008-11-10: 11:16:00
Great word - OZZIEBOB, 2008-11-11: 03:44:00
----------------------------
Created by: denise
Pronunciation: pic-u-YOU-FOR-E-u
Sentence: His recurring issues with picayuphoria resulted simultaneously in a severed finger and an intense feeling of pride over proving his point as his wife watched in horror.
Etymology: A blend of picayune + euphoria
Created by: courty3303
Pronunciation: Muh-ler-cal
Sentence: I malerckaled my husband.
Etymology:
Created by: Nosila
Pronunciation: spart ner
Sentence: John always argued with his wife Ginger. He would argue about every and anything. He was so addicted to arguing with her that he was her spartner, not just her partner. Lucky girl...
Etymology: Spar (duel, argue, debate) & Partner (someone with whom you can spar)
Created by: eljono
Pronunciation:
Sentence: She's very argusive, she just loves being right
Etymology: argumentative + compulsive
Created by: treehous
Pronunciation: \pri-ˈpäs-t-i-ˈrä-ti-kə\ (pre-pos-tur-ott-ika)
Sentence: Joe felt a brief wave of preposterotica as his wife finally admitted he might be right.
Etymology: preposterous- from Latin præposterus "absurd, contrary to nature" erotica- from French érotique, from Greek erotikos, from eros (gen. erotos) "sexual love"
Created by: G1GGSY11
Pronunciation: bic-er-bait
Sentence: he constantly bickerbaits, anything for an argument
Etymology: bicker + bait
Created by: sharktrager
Pronunciation: ar-gu-MEN-tal-case
Sentence: I lived with an argumentalcase who was so convinced that London was a dangerous city that I shot her.
Etymology: Argumental + mental case