Vote for the best verboticism.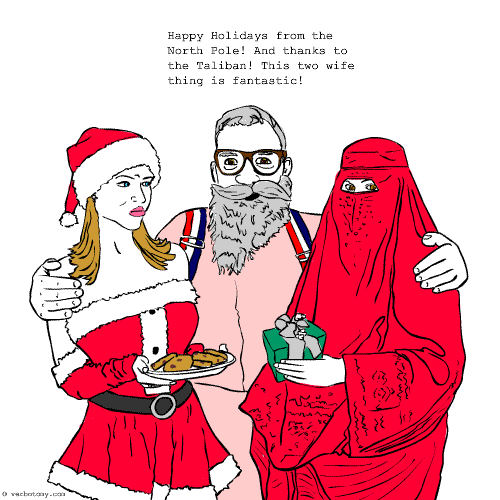 DEFINITION: To offer non-denominational, inter-faith seasonal greetings, which are nevertheless a tad politically incorrect.
Verboticisms
Click on each verboticism to read the sentences created by the Verbotomy writers, and to see your voting options...
You have two votes. Click on the words to read the details, then vote your favorite.
Created by: iceburgamy
Pronunciation: ... you got me
Sentence: "happy holidays" is an example of a (see above)
Etymology: you know... the mormons
Created by: Bulletchewer
Pronunciation: hol-e-corse-ti-fy
Sentence: It was particularly cringe-worthy to hear Michael holicaustify the diverse range of guests.
Etymology: From "holy/holiday", "horrify" and "caustic" meaning acidic or harsh. Is, of course, a pun on Holocaust, making the word a little risky, but, in my view, adding to the effectiveness of the gestures it describes, as they are offensive/insensitive.
Created by: babel
Pronunciation: yool-tride
Sentence: Peter's whisky-infused mulled wine gave him oodles of yuletried spirit
Etymology: yuletide + tried
Created by: knave
Pronunciation:
Sentence: The stops in my area tend to misfestivate a bit this time of year.
Etymology:
Created by: oohisay
Pronunciation:
Sentence:
Etymology:
Created by: quippingqueen
Pronunciation: glich/greet/ing
Sentence: Had Bismark Long-Pocket owned a copy of "The Official Politically Correct Dictionary and Handbook" or "Cultural Etiquette: A Guide for the Well-Intentioned", he would never have uttered such a glitchgreeting to the Quack-pots and Nag-Gnostics in his office.
Etymology: glitch: a malfunction or minor problem with unintended consequences + greeting: an expression of good wishes
Created by: Fleury
Pronunciation:
Sentence:
Etymology:
Created by: wysware
Pronunciation: con-grat-tu-grate
Sentence: I found his "merry substitute-holiday-of-your-choice" greeting particularly congratugrating.
Etymology: congratu (lations) grate (irritate)
Created by: verndo
Pronunciation:
Sentence: Marry! Jesus didn't do it.
Etymology: Merry, Mary, to be married... clever high-pressure covert tactic to get you to marry.
Created by: artbegotti
Pronunciation: ek'so-dEE-sem"bray-ting
Sentence: "Christmas shopping used to be easy, until the stores began exodecembrating for the neighbors down the street... now, there are so many "Holiday Spectacular" sales, I don't have time to visit them all!"
Etymology: From the Latin "ex" meaning "out of", and the Anglican "December" meaning "tenth month". I don't get it either.