Vote for the best verboticism.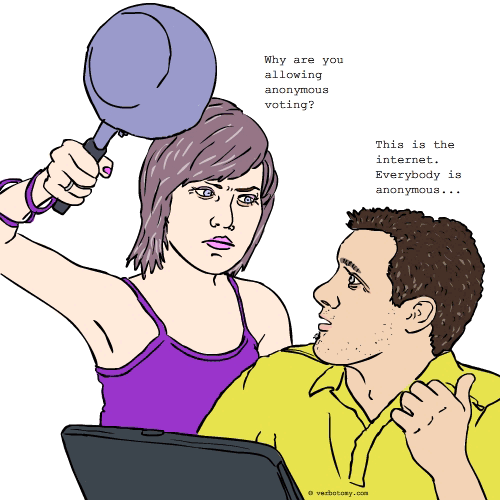 DEFINITION: v. To whack someone over the head with a pot (or any other handy utensil), because they won't do what you say. n. A complaint about someone who doesn't do things the way you want.
Verboticisms
Click on each verboticism to read the sentences created by the Verbotomy writers, and to see your voting options...
You have two votes. Click on the words to read the details, then vote your favorite.
Created by: Jabberwocky
Pronunciation: doe/mes/tik/fry/oh/lence
Sentence: When all else failed Sally resorted to domesticfryolence to get her point across and make Sam do eggzactly what she wanted.
Etymology: dome (as in head) + fry (frying pan) + domestic violence
----------------------------
COMMENTS:
Eggscellent, another example of your being word skillet. - Nosila, 2009-04-29: 18:35:00
----------------------------
Created by: bookowl
Pronunciation: conk/vince
Sentence: If you don't believe me I will try to conkvince you.
Etymology: conk + convince
----------------------------
COMMENTS:
Ha ha...like it! - readerwriter, 2009-04-29: 11:18:00
Conklusively good word! - Nosila, 2009-04-29: 18:35:00
I'm conkvinced! Perfect word for the definition. - splendiction, 2009-04-29: 22:32:00
love this word! - mweinmann, 2009-04-30: 08:39:00
----------------------------
Created by: galwaywegian
Pronunciation: dih fer en sov oh pahn yun
Sentence: Mr. Velcro wasn't as smooth as he thought, judging by the scars received from his latest differenceofopanion
Etymology: difference of opinion, pan
Created by: Mickey
Pronunciation:
Sentence:
Etymology:
Created by: Mustang
Pronunciation: eew-TEN-sihl-lash
Sentence: Ian would frequently criticize Wendy's cooking techniques and being short tempered Wendy would often attempt to utensilash him, striking out with a frying pan, spatula, whisk, or any other utensil that was handy.
Etymology: Blend of 'utensil' (an implement, instrument, or vessel used in a household and especially a kitchen) and 'lash' (v. to strike, hit, whip)
Created by: Biscotti
Pronunciation: pah t sk waab el
Sentence: Mike knew he was in for a potsquabble when arguing with Becky that Kwik Trip was spelled with a "Q", and not a "Kw". He knew he was wrong since he had gassed up there not 10 minutes ago and distinctly remembered the sign. Becky already had her cast iron pan in hand...
Etymology: Pot (cooking vessel for the stove, also called a pan) + squabble (a fight)
----------------------------
COMMENTS:
Very apt. Love it - emdeejay, 2009-04-29: 02:49:00
----------------------------
Created by: mrskellyscl
Pronunciation: kitchen-dee-ranged
Sentence: Everyone knew not to mess with mom in the kitchen. If she got mad whatever was in her hand, a pot, spoon or spatula, became an implement of household law enforcement. Most especially, we learned not argue with her about chores or to criticize her cooking. She could get absolutely kitchenderanged and we'd see her skullery skills. We decided that it was much better to kiss the cook than to kid her.
Etymology: word based on Kitchen Range (stove) -- kitchen + deranged: to behave wildly or irrationally
Created by: Faherty94
Pronunciation:
Sentence:
Etymology:
Created by: rikboyee
Pronunciation: pot-ee-trayn
Sentence: Seeing how poorly he followed simple instructions, she knew she would have to pottytrain her new boyfriend
Etymology: pot, train, potty train
Created by: galwaywegian
Pronunciation: leh kruhsh ay
Sentence: Her lecrushet reestablished the pecking order in the kitchen. From now on the only sauce in that kitchen would be edible.
Etymology: le creuset (heavy pots, pans andcasseroles)crush
----------------------------
COMMENTS:
funny said with a French accent - Jabberwocky, 2009-04-29: 12:37:00
Un mot formidable, cheri(e)! - Nosila, 2009-04-29: 18:31:00
----------------------------