Vote for the best verboticism.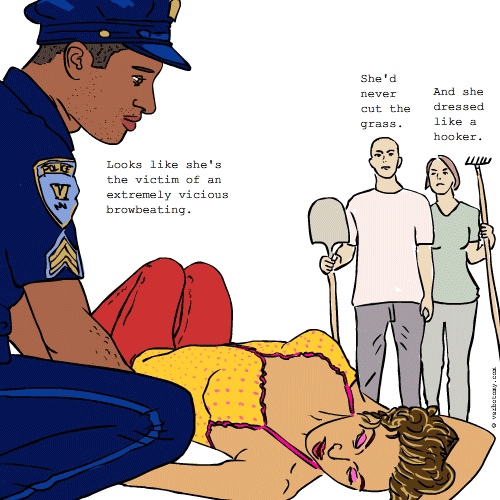 DEFINITION: n. Annoying neighbors who spend endless hours mowing their lawns, painting their fences, washing their cars, and browbeating you because you have a life. v. To express disapproval for someone's lifestyle.
Verboticisms
Click on each verboticism to read the sentences created by the Verbotomy writers, and to see your voting options...
You still have one vote left...
Created by: petaj
Pronunciation: lie-f-sp-ern
Sentence: After many years of censuring her neighbours, the old woman finally reached the end of her lifespurn when she collapsed midcriticism on the decorative border that had whipped her into a judgmental frenzy.
Etymology: life + spurn + lifespan
----------------------------
COMMENTS:
Admire how well you put your sentence, your thoughts, and your word together. Very well done! - silveryaspen, 2009-03-17: 14:19:00
Good word and sentence. - kateinkorea, 2009-03-17: 19:41:00
Nothing like having a garden to die for... - Nosila, 2009-03-17: 23:31:00
Concise and excellent! - metrohumanx, 2009-03-18: 04:50:00
thanks for the nice comments - petaj, 2009-03-18: 07:36:00
----------------------------
Created by: galwaywegian
Pronunciation: nay say burz
Sentence: The final straw was when the naysaybours complained that her underwear was too loud
Etymology: neighbours naysayers
----------------------------
COMMENTS:
Good one...was she from Nickeragua? - Nosila, 2010-09-29: 00:42:00
----------------------------
Voted For! | Comments and Points
Created by: Nosila
Pronunciation: ay but in skee
Sentence: In our sleepy suburban town, we had an abuttinski. She was Old Lady Burns, the bitter divorcee who lived next door to us and found fault with everything people did for enjoyment. She was the Neighbourhood Witch, the one who you could never please. If we didn't mow the lawn when she felt it needed it, she called the Noxious Weed Dept. If we did start up the mower to tackle the lawn, she called the Noise Abatement Dept. If our dog was out in our fenced off back yard, she called the Humane Society. We came this close to having to toilet train Sparky on the potty inside. If we even started up the barbecue, we would have to ensure we had enough food for the whole fire crew, as she would call them the minute we opened the lid. If we cooked something spicy, like curry, the HazMat Team was forced on the scene. The police practically lived on our street because she called them for everything from suspicious persons going door to door (like the paper boy and mailman) to recording license plates of vehicles not know to dwell on our street (like all these enforcement officers' vehicles from all the various city departments)and for attempted break-ins on her property (the gas meter reader,census-takers, the Avon lady). Reasoning, bribes,acts of kindness and inclusion,threats and logical persuasion all failed to change her behaviors. She was always in the right and she had her lawyer on speed-dial to launch suit over anyone who stood up to her underhanded, second-party bullying. She would hide in her house and have every civil servant at her beck and call to do her dirty work. Being self-righteous and thinking herself an upstanding and virtuous Christian, she did speak to every religion peddlar who came to her door. Many thought it poetic justice that the horrid smell coming from her home one day was due to the fact that one of these zealots had taken exception to her smug beliefs and bashed in her cranium several weeks before and helped himself to her valuables. The police, while appearing professional, were secretly glad she no longer controlled their work duties, so they could finally concentrate on real crimes; the Fire Dept. was relieved to have an opportunity to actually fight real fires elsewhere. The moral: if you are not nice to people, there will be no one around to close your lids when your time comes!
Etymology: Abut (lie adjacent to another or share a boundary) & Buttinski(a meddler who tends to butt in)
----------------------------
COMMENTS:
Good one Nosila! :)You are a great writer! - abrakadeborah, 2009-03-17: 01:37:00
I was just kidding about the brevity of "hydroflobia"....This is an excellent parable and one helluva mico-novel! I hope you're in charge of refreshments at the upcoming First Annual International Verbotomixer and Wordswap Extravaganza! - metrohumanx, 2009-03-17: 03:16:00
Amdire the way you captured that butt mentality! Great etymology. Terrific word! - silveryaspen, 2009-03-17: 13:54:00
Cheers, all...sadly my sister and her family had to move far away from us to escape such a neighbour...coming home was the most stressful and scary part of their day, because she spent long hours plotting fresh Hell for them. This creature outlived every elected official we had and there is finally a cease and desist response in her flagged file to warn emergency services not to respond to her calls, as she became a permanent nuisance. Of course, charging her $250 for every wasted call went a long way to curbing her behavior! It is sad that someone has nothing better to do but terrorize others...personally I think she'd give the Guantanamo guys a run for their money! - Nosila, 2009-03-17: 23:40:00
My heart goes out to you and your sister and your families. I am so thankful that I have exceptionally good neighbors! - silveryaspen, 2009-03-18: 12:56:00
----------------------------
Created by: Mustang
Pronunciation: NAY-bubes
Sentence: Coretta thought of her neighbors as naboobs, people of some wealth and circumstance who who had nothing better to do than improve their properties and their lives while she sunbathed, partied and did her best to just look pretty.
Etymology: Play on the word 'nabob' (A person of wealth and prominence)
----------------------------
COMMENTS:
Good word there Mustang :) I was waiting to read what kind of sentence or story you would write with the "Naboobs" of the neighborhood! lol, Very good description! - abrakadeborah, 2009-03-17: 01:43:00
Very titillating word, there, Mr M! - metrohumanx, 2009-03-17: 03:14:00
Hey Deborah...uh huh...there's boobs, and then there's boobs. Not all of them are rednecks. ;-) - Mustang, 2009-03-17: 06:18:00
Thanks Metro...My cup runneth over..... - Mustang, 2009-03-17: 06:19:00
There goes the naboobhood! - readerwriter, 2009-03-17: 07:09:00
There goes the naboobhood! - readerwriter, 2009-03-17: 07:09:00
got a big laugh out of how you took a snobby word like nabob and brought it down to the boob level! - silveryaspen, 2009-03-17: 13:57:00
Mustang, what a good Mammory you have for words! You get a lot of support here, too. - Nosila, 2009-03-17: 23:26:00
Got the idea off the boob tube....lots of good mammories from watching that. - Mustang, 2009-03-18: 02:30:00
Like your word Mustang, these comments rate an A+ ... especially for being funny! - silveryaspen, 2009-03-18: 13:00:00
----------------------------
Created by: abrakadeborah
Pronunciation: twit-bores
Sentence: The Adams family were such twitbores that neighbors could not survive in order to comply with their perfectionism.
Etymology: Twit- To taunt, ridicule, or tease, especially for embarrassing mistakes or faults. Bores- a dull, repetitious, or uninteresting person, activity, or state.
Created by: silveryaspen
Pronunciation: yard cell
Sentence: My neighbors were constantly gardening and telling me that I needed to do the same. I am sick of their constant yardsell.
Etymology: YARD, SELL being a play on yard sale. Also a play on hard sell. YARD - the area of land immediately surrounding a house, often covered with grass or landscaping. SELL - persuade somebody of something: to make an idea or proposal acceptable to somebody. Cell - a confining and very limiting place.
----------------------------
COMMENTS:
A perfect lawn IS the sign of a sick mind. Leave the Aspen leaves where they lie. - metrohumanx, 2009-03-17: 03:12:00
Good combination of ideas. - kateinkorea, 2009-03-17: 19:51:00
Good word...as metro says, leave the Aspen leaves where they lie and you will be more Poplar! Some people just Birch and Beech all day to get attention. If they want to Spruce up your yard, they should come and do it! - Nosila, 2009-03-17: 23:23:00
----------------------------
Created by: Nosila
Pronunciation: hone bod ees
Sentence: Marcia was always criticized by her neighbours, because she never stayed home and spent hours working on her house. The Kranks, the honebodies from next door, were the first suspects when Marcia was found dead on her grass. She should have taken fencing lessons to get lawn order.
Etymology: Hone (to sharpen, improve,make perfect or complete) & WordPlay on Homebodies (people who seldom leave home)
Created by: mweinmann
Pronunciation: hownds + keep + urs
Sentence: Morrie's neighbors were real houndskeepers. They spent their entire life grooming their yard and house so that it was a "showplace". Because Morrie did not choose to spend all of his free time in the same pursuits, his neighbors continuously derided him and made snide comments about the condition of his lawn.
Etymology: hound and groundskeepers >> Hound (To urge insistently; nag) groundskeepers (Groundskeeping is the activity of tending an area of land for aesthetic or functional purposes)
----------------------------
COMMENTS:
So apt to the definition. Super etymology and verbotomy! - silveryaspen, 2009-03-17: 13:59:00
I agree with silveryaspen! - kateinkorea, 2009-03-17: 20:08:00
I agree with KateinKorea! - metrohumanx, 2009-03-18: 04:51:00
----------------------------
Created by: artr
Pronunciation: jurk-uh-haw-lik
Sentence: Nicky lives next to jerkaholics. They are constantly mowing and trimming out in their yards. Clearly it is a conspiracy to make her look lazy. To make matters worse they dump their clippings in her overgrown lawn.
Etymology: jerk (a contemptibly naive) + workaholic (a person who works compulsively at the expense of other pursuits)
Created by: Banky
Pronunciation: /mohn-siz/
Sentence: Charlotte pulled out of the garage to find the Christmas lights torn down to the point that they were dragging through her hair. She clawed at the string of bulbs as she nearly ran the convertible into the mailbox. Looks like the Moanses were trying to give her another hint.
Etymology: Play on words of "Joneses", as in "keeping up with the" and moan, to low with dismay or pain
----------------------------
COMMENTS:
Super funny! Truly a great word for complaining neighbors. Excellent! - silveryaspen, 2009-03-17: 14:08:00
Funny! - kateinkorea, 2009-03-17: 19:38:00
Sounds like our neighbour, Mona Lott! - Nosila, 2009-03-17: 23:32:00
----------------------------