Vote for the best verboticism.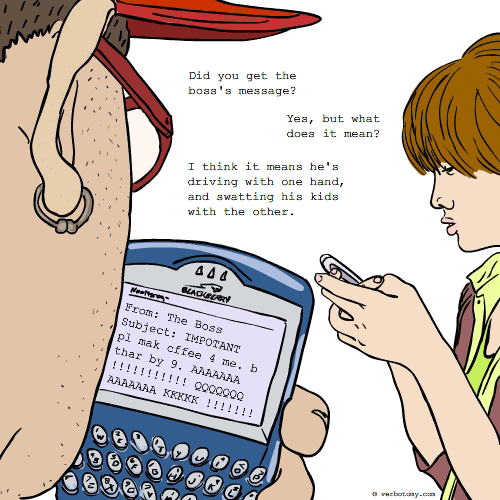 DEFINITION: v., To grasp the meaning of muddled texts like blog posts, emails and text messages where standard grammatical or spelling conventions have been ignored. n., The ability to read and understand confused or poorly written messages.
Verboticisms
Click on each verboticism to read the sentences created by the Verbotomy writers, and to see your voting options...
You have two votes. Click on the words to read the details, then vote your favorite.
Created by: artr
Pronunciation: sīfərfaðəm
Sentence: Harry spent his career breaking coded messages in his job at the NSA. Despite this he has trouble trying to cypherfathom emails and texts from his kids.
Etymology: cypher (a secret or disguised way of writing) + fathom (understand)
Created by: abrar
Pronunciation: TEXT-STAND
Sentence: I've received a funny text from the Boss. Please Txtstand me :)
Etymology: Txt( TEXT) stand (understand)
Created by: MrDave2176
Pronunciation: dee-MUN-gul
Sentence: The message was almost hopelessly unreadable until Jeremy stepped in to demungle it.
Etymology: "to Mung" is a hacker term which means to alter in some negative way. A mungle message would be altered to be unreadable. To demungle would make it whole again, right?
Created by: garythesnail
Pronunciation: Slu-text-i-zhion
Sentence: When her husband sent her an IM, Jane said 'What is this?' Her husband said I have slatextion. It says: Get eggs, coffee and milk at the store, please.
Etymology: Slang+text+suffix "ition"
Created by: TJayzz
Pronunciation: Inter-pret-ex-t
Sentence: Jane's mum just couldn't get to grips with the predictive text on her cellphone, luckily Jane was an expert in interpretext, so when her mum's muddled messages came through she understood exactly what she was trying to say.
Etymology: Interpret (Understand the meaning of, translate) + Text (Written or printed words, message left on cellphone) ORIGIN Latin textus from texere 'weave' = Interpretext)
----------------------------
COMMENTS:
great combo - Jabberwocky, 2008-10-14: 13:21:00
Very clever. - Mustang, 2008-10-14: 17:22:00
Intuitive and eminently pronounceable word! - metrohumanx, 2008-10-17: 07:48:00
----------------------------
Created by: xirtam
Pronunciation: krip-tuh-grahsp
Sentence: See if you can cryptograsp what I am typing. "You don't hvae to crroeclty sepll erevyhting jsut hvae all the ltteres, and hvae the fsrit and lsat lteetr in the crreoct poistoin." Pretty cool.
Etymology: crypto from cryptogram, A piece of writing in code or cipher. + grasp, mental hold or capacity; power to understand.
----------------------------
COMMENTS:
Nice! - purpleartichokes, 2007-11-15: 19:00:00
----------------------------
Created by: verbotomer
Pronunciation: ˈiːˌdjuːs
Sentence: "I educed that he meant, 'see you later' when he sent, 'cUL8rrrr11111!!!'"
Etymology: similar meaning to the original educe, but with the stress on the first syllable, modelled on Internet-related words such as email, ebusiness, etc. It can also be spelled 'e-duce'.
Created by: perkolady
Pronunciation: sec-ra-TAL-ent
Sentence: "Hmm, forward that message to Sylvia--she's got amazing secretalent."
Etymology: From your standard secretary, nurse, or other aid-giving person's miraculous ability to read their superiors' chickenscratch.
Created by: thebaron
Pronunciation: de-cryp-ta-text
Sentence: Jason could easily decryptatext his boss' practically unreadable messages.
Etymology: de(undo) crypt (hidden message) text (words)
Created by: Tigger
Pronunciation: sĭn-těks-tə-fī'
Sentence: After only two weeks of dating, Melissa was able to syntextify Jared's messages by supplementalizing them with proper grammar and spelling. She supposed it was worth the effort -- all the other girls thought Jared was cute, and he certainly was popular.
Etymology: syntax (Greek, syntaxis "a putting together or in order") + text (Late Latin, textus "written account") + [identi]fy (Medieval Latin, identificāre "to make to resemble")