Vote for the best verboticism.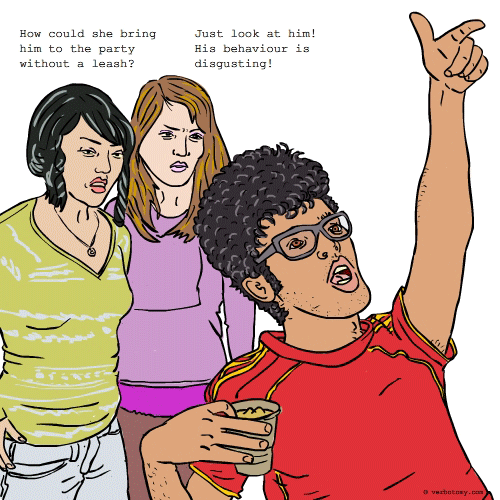 DEFINITION: n. An unleashed pet (or boyfriend) which is running amuck, chasing cars, eating garbage, and jumping on innocent bystanders. v. To unleash your pet and let him or her run wild.
Verboticisms
Click on each verboticism to read the sentences created by the Verbotomy writers, and to see your voting options...
You have two votes. Click on the words to read the details, then vote your favorite.
Created by: artr
Pronunciation: boifrenzē
Sentence: It was always the same. They would go to a party. The girls would gather in the kitchen and exchange gossip. The boys would gather near the TV and at the slightest provocation start acting like fools. The girls would act disgusted but were secretly envious to join the boyfrienzy.
Etymology: boyfriend (a regular male companion with whom one has a romantic or sexual relationship) + frenzy (a state or period of uncontrolled excitement or wild behavior)
----------------------------
COMMENTS:
I've seen a few girlfrienzies too! - wayoffcenter, 2009-03-19: 06:58:00
----------------------------
Created by: artr
Pronunciation: rampət
Sentence: Joan almost hated to get an invitation to a party. She knows her boyfriend will have a bit too much to drink and act like a fool. His rampet behavior may be funny to some but they don\'t have to clean up the mess he makes. Smacking him with a rolled-up newspaper only works for a short while.
Etymology: rampant (violent or unrestrained in action or performance) + pet (a domestic or tamed animal or bird kept for companionship or pleasure)
Created by: Nosila
Pronunciation: run fet terd
Sentence: Sally's boyfriend, Ron, was a wild thing. Even when they were at social gatherings, he knew no boundaries. Her friends thought that he needed to be housebroken, because he carried on runfettered...or in his case, Ronfettered. Yes, it was time for that trip to the Vet's clinic!
Etymology: Run (unrestricted freedom) & Unfettered (not bound by shackles and chains)
Created by: Nosila
Pronunciation: bar beree an dee
Sentence: Stella instantly regretted bringing her savage boyfriend, Barbariandy to the party. He never behaved well in social groups, but maybe if she got him neutered, she could finally housebreak him...because she hated the way he marked his territory.
Etymology: Barbarian (a crude uncouth ill-bred person lacking culture or refinement) & Andy (male name, short for Andrew)
Created by: Cannator
Pronunciation: An-a-muck
Sentence: Her anamuck is peeing on the neighbours plants again.
Etymology: An - Animal Muck - From the sentence "to run-a-muck"
----------------------------
COMMENTS:
Sometimes they WALK amok!~ - metrohumanx, 2009-03-19: 02:01:00
Welcome. How clever to spell amok, amuck, for the muck the anamuck was spreading in your sentence! Good start! - silveryaspen, 2009-03-19: 02:22:00
----------------------------
Created by: metrohumanx
Pronunciation: FEAR-uh-LOON-uh-trog
Sentence: Sookie and Sandy sure liked to party- The food wasn't good but the toasts they were hearty!- The music grew louder, the word passed around- Someone invited the bums from downtown… Soon it grew nasty-the punch it got drained-- Some fool brought a pit bull-The punches they rained- On innocent drunkards who passed out quite early- The riot squad turned out that night to be surly. So next time you party with Sookie and Sandy- Come with a tazer and keep the mace handy. Come with a buddy, a spouse or a dog, but... Please don't bring a FERALUNATROG
Etymology: FERAL+lUNAtic+TROGlodyte=FERALUNATROG.....FERAL: of, relating to, or suggestive of a wild beast, having escaped from domestication and become wild; Medieval Latin feralis, from Latin fera wild animal, from feminine of ferus wild 1604.....LUNATIC: affected with lunacy, wildly foolish; Middle English lunatik, from Anglo-French or Late Latin; Anglo-French lunatic, from Late Latin lunaticus, from Latin luna; from the erroneous belief that lunacy fluctuated with the phases of the moon.....TROGLODYTE: a member of any of various peoples (as in antiquity) who lived or were reputed to live chiefly in caves; Latin troglodytae, plural, from Greek trōglodytai, from trōglē hole, cave (akin to Greek trōgein to gnaw, Armenian aracem I lead to pasture, graze) + dyein to enter.
----------------------------
COMMENTS:
Roaring with laughter at your silly rhyme, and your dilly of a verbotomy! Funtastic! - silveryaspen, 2009-03-19: 02:35:00
Please don't bring a FERALUNATROG - abrakadeborah, 2009-03-19: 02:58:00
dang it cut off all I said...good one! :) - abrakadeborah, 2009-03-19: 02:59:00
Thanks, all. I was pushing the envelope with that one....?! - metrohumanx, 2009-03-19: 03:02:00
YEARS of Academy training.....WASTED! - metrohumanx, 2009-03-19: 03:13:00
Insanely good. - kateinkorea, 2009-03-19: 20:35:00
You got my vote! Excellent word! :) - abrakadeborah, 2009-03-22: 22:46:00
----------------------------
Created by: silveryaspen
Pronunciation: ped ig ree least
Sentence: Leash laws are all too often ignored. Pit bulls knock over trash cans, rip off the lids, and strew their litters everywhere, including their poochiepoops. The cargis chase cars, barking crazily, sending drivers veering badly and braking madly. Pursued by mongrowls, the pedestriafleeings are stopped in their tracks by the snarling bull terrors. Dobermans use their teeth as pinschers, causing people to flea to the hospitals for tetanus shots. There are so many lightning fast strayhounds, untiedy dogs, those pedigreeleased, that even the dog catchers, despite their great currage, and bow-rows, are losing their dog gone battles!
Etymology: PEDIGREES - dogs with papers on their lineage. RELEASED - unleashed, free to roam.
----------------------------
COMMENTS:
Song of the day might be: You Ain't Nothing But A Hound Dog! - silveryaspen, 2009-03-19: 02:57:00
I love your choice of words in your sentence! Good word :) - abrakadeborah, 2009-03-19: 06:21:00
----------------------------
Created by: galwaywegian
Pronunciation: dum esth ik ay ted
Sentence: Unfortunately her boyfriend proved to be completely dumbesthickhated. she would have dumped him ages ago if he didn't have more useful animal instincts.
Etymology: domesticated, dumbest thick hated
Created by: galwaywegian
Pronunciation: tehr err eeeeeeeeee errr
Sentence: When Jo's terrorier was let loose He peed in the chilled orange juice He dismembered the turkey and to finish his work, he Attempted gran's ankles to goose!
Etymology: terrier, terror
----------------------------
COMMENTS:
Grrrrrr-oss sentence, Grrrrr-eat word! Even if it hard to say it three times fast! - silveryaspen, 2009-03-19: 13:37:00
its a limerick, did you spot it? - galwaywegian, 2009-03-19: 15:20:00
Yes, it is a one of the fun rhymes of today. Has such clever attention getting gimmick, it deserves a special name, so lets call it a gimmerick! - silveryaspen, 2009-03-19: 16:56:00
Funny....and his name was no doubt Fido. - Mustang, 2009-03-19: 19:27:00
----------------------------
Created by: abrakadeborah
Pronunciation: jerk-gust-ing
Sentence: Jerry was a jerkgusting guy...no matter where he went, he made everyone want to knock him out, to shut him up.
Etymology: Jerk - Slang A foolish, rude, or contemptible person. Part of Dis"gusting" - Arousing revulsion or strong indignation. Synonyms:loathsome - nasty - repulsive -abominable - revolting.