Vote for the best verboticism.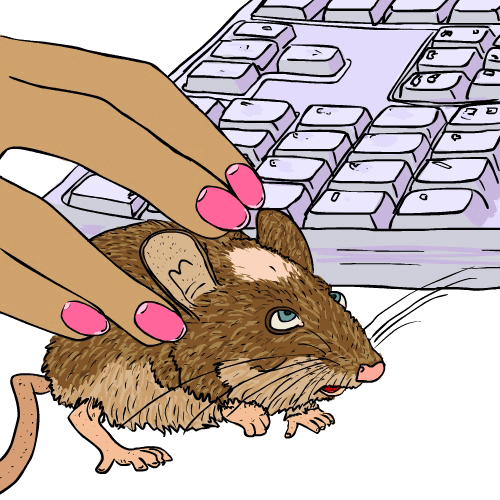 DEFINITION: n., A wear mark, or shiny spot, which appears on a heavily used computer touch-pad, mouse or keyboard. v., To wear down or erode through repetitive clicking, tapping or poking.
Verboticisms
Click on each verboticism to read the sentences created by the Verbotomy writers, and to see your voting options...
You have two votes. Click on the words to read the details, then vote your favorite.
Created by: jkernen1
Pronunciation:
Sentence: The keyboard appeared old and a thin layer of fingerwax had been applied.
Etymology: finger + wax
Created by: Jabberwocky
Pronunciation: mouse/keh/tare
Sentence: Sally was so busy scrolling through ebay that she didn't notice that the mousekewear had swiftly become a mouseketear.
Etymology: mouse + tear (rip) + mouseketeer
----------------------------
COMMENTS:
Very clever! Perhaps you need a cybercat! - OZZIEBOB, 2007-11-20: 16:41:00
----------------------------
Created by: xirtam
Pronunciation: ri-kur-skohr
Sentence: The mouse attached to that old PC was used so much that there was a recurscore on the left button. It was the exact shape of my finger tip.
Etymology: Recur: Latin recurrere - to occur again + Score: Middle English scoren - to make notches, cuts, marks, or lines in or on.
Created by: artr
Pronunciation: klikəpēshēə
Sentence: It's good for Bill that he's a touch typist. He has worn most of the letters off of the keys on his keyboard. His mouse has a bad case of clickopecia, a bald spot caused by excessive clicking.
Etymology: click (an act of pressing a mouse button) + alopecia (the partial or complete absence of hair from areas of the body where it normally grows; baldness)
Created by: vmalcolm
Pronunciation: /al-uh-pad-shee-uh/
Sentence: "Does your owner tap on you like a beast? are you losing your hair and colour? Do no wait anymore! STOP IT NOW!!! By using our brand new product called Aminexpad!!! Try it out, or you'll be out!
Etymology: ALOPADCIA. From Alopecia (loss of hair; baldness) + Pad
----------------------------
COMMENTS:
very funny - Jabberwocky, 2008-10-17: 11:53:00
Zounds! - metrohumanx, 2008-10-17: 12:22:00
Hair-iffic! - Nosila, 2008-10-17: 22:25:00
clever - OZZIEBOB, 2008-10-19: 00:33:00
----------------------------
Created by: nerdkiller
Pronunciation: point-o-pee-zia
Sentence: Sam scrolled through the entire Boingboing archive until his pointer had mouse pattern pointopecia.
Etymology: alopecia (baldness, pointer (pointing device)
Created by: rikboyee
Pronunciation: skuff-ul-bord
Sentence: his penchant for using the W A S D keys to control pacman were resulting in a serious case of scuffleboard
Etymology: scuff, key board, shuffleboard
----------------------------
COMMENTS:
missed this one yesterday - very funny - Jabberwocky, 2007-11-21: 06:02:00
----------------------------
Created by: patrick12345
Pronunciation: anoi/puter
Sentence: He was searching google when his mouse stoped working for the 50th time he was very annoyputer
Etymology: annoying+part of a computer
Created by: OZZIEBOB
Pronunciation: i-ROHD-uh n-see
Sentence: Bob lived in constant state of click-button erodency with an abrashining mouse and a repitritious keyboard.
Etymology: Blend of "E" for a system of world-wide electronic communication;as in email etc., RODENT: from Mod.L. rodentia, the order name, from L. rodentem (nom. rodens), prp. of rodere "to gnaw, eat away," like a "mouse" and CY: state or condition.
----------------------------
COMMENTS:
excellent - Jabberwocky, 2008-10-17: 11:52:00
Good one!! - TJayzz, 2008-10-17: 14:17:00
----------------------------
Created by: Nosila
Pronunciation: ee teer eeo rayt
Sentence: June's computer mouse was so worn it was in the terminal stages of eteriorate. She thumped on it so often everyday that it was in a permanent stage of AOLopecia.
Etymology: deteriorate (to fade away or worsen) & e-terior (electronic exterior) & ate (eaten away)