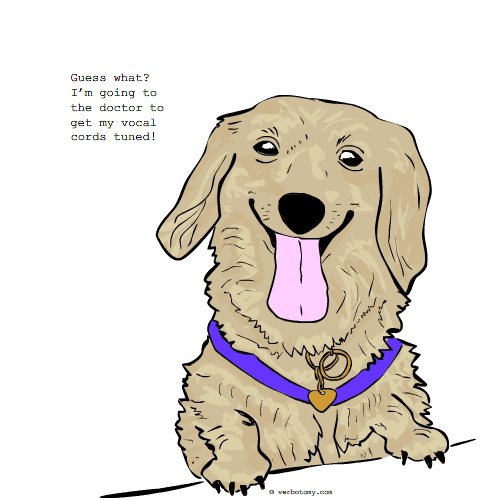 DEFINITION: n. A non-threatening term to describe the procedure of cutting vocal cords on yappy dogs, which makes it sound like a good thing -- after all, they will never bark again. v. To remove the vocal chords.
Barchotomy
Pronunciation: bar-KOT-uh-mee
Sentence: After many sleepless nights and calls from angry neighbors Harriet took her pooch Herbie to the vet for a barchotomy which solved her problem but left Herbie perplexed at his wispering bark.
Etymology: Combination of bark (the abrupt, harsh, explosive cry of a dog) and dichotomy (from the Greek dichotomia (divided): dich- (form of dícha , in two, asunder); tomia- a combining form meaning cutting, incision, excision of an object)
Points: 440