Verboticism: Wingurgitate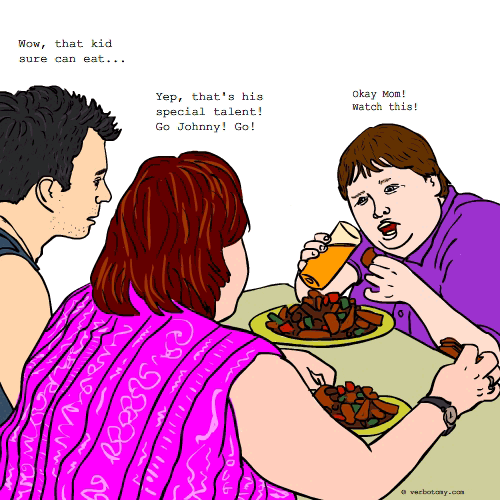 DEFINITION: n., A "talent" for which an individual takes a great deal of personal pride, even though it is just a common, mundane skill that almost everyone can do. v., To take pride in a special talent which in fact is not special at all.
Wingurgitate
Pronunciation: win gurj it ayt
Sentence: No one could wingurgitate like Little Bobby Eatmore (he was called after his Daddy, Big Bobby Eatmore, not just cuzza his size). Little Bobby could out-eat anyone. He did it at home and he entered food eating contests. The Great Kobayashi (most-food-eating-contest-winner) was awed by Little Bobby. No one worried about Little Bobby's size, nutrition or health, his parents were more focussed on cutting an A&E reality series deal about their little oinker, tentatively titled, "Hello, Gorge-Us"!
Etymology: Win (attain success or reach a desired goal) & Ingurgitate (overeat or eat immodestly; make a pig of oneself)
Points: 506