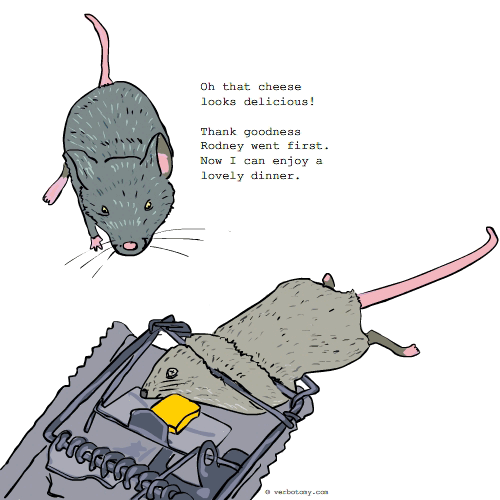 DEFINITION: v. To generously allow others to precede you in hopes that they will identify, reduce, and perhaps be eliminated by, the potential hazards. n. A gesture of courtesy which is really the lead-in to a trap.
Courtesnare
Pronunciation: kur te snair
Sentence: Mojo the Mouse had learned how to avoid the mousetrap. When he saw the tasty cheese awaiting him, he always did a courtesnare, by letting his pal, Rodney spring the trap and leave him the tasty morsel. This way, Mojo wan't one of those mice, who thrice get a splice in a vise and heed no advice!
Etymology: Courtesy (a courteous or respectful or considerate remark or act) & Snare (entrap)
Points: 482