Verboticism: Economyclasstrophobia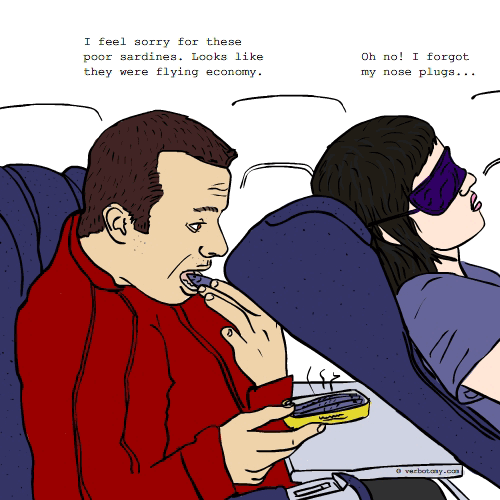 DEFINITION: n., A feeling of discomfort, common while sitting on a plane or train, created by the sense that you are about to be decapitated by your fellow passengers who are tilting aggressively towards you. v. To sit in a very small space, which seems to be getting smaller.
Economyclasstrophobia
Pronunciation: ee kono mee klas tro fo beea
Sentence: John thought, "No wonder there's air rage these days. The planes are getting smaller, the line up at security takes longer than the actual flight. A 2 hour flight ends up in an 8 hour outing just to get where you need to go. You either have to buy food in the after security spaces at grossly inflated prices or purchase something to eat on the airplane at even more grossly inflated prices. The headphones for the movie rarely work. The crew are always on skeletal staff levels and forget trying to turn around in the toilet". After these happy thoughts John was fighting to overcome his economyclasstrophobia, as the seat in front of his slowly edged towards his head. "Seriously, he thought, does that girl really need eyemask and reclined seating for this 20 minute flight??? Next time, I'm driving", he vowed.
Etymology: Economy Class (the cheapest class of air or rail travel) & Claustrophobia (a morbid fear of being closed in a confined space)
Points: 641