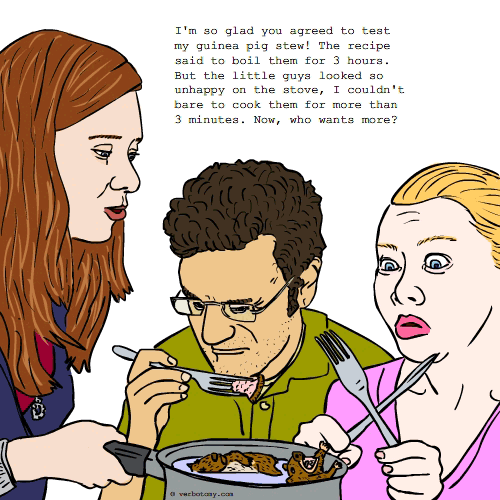 DEFINITION: v. To prepare or process food in a manner that renders it unpalatable, indigestible and completely inedible. n., Food which has been prepared in such a way that it is unfit for human, or even non-human, consumption.
Terramisu
Created by: artr
Pronunciation: terəmēsoō
Sentence: People love to invite Ruth to their parties. She is witty and funny. They did however learn their lesson about inviting her to a pot luck dinner. She brought what she referred to as tiramisu. Her fellow party goers called it terramisu. Being the creative person she is, Ruth did some substituting when she found herself short a few ingredients, hotdog buns for the lady fingers, tea for the coffee, and cottage cheese for the mascarpone. The final touch of chocolate chips subbing for powdered chocolate made it look like her dessert was infested with bugs. Everybody told Ruth how **interesting** her treat looked but nobody was brave enough to try a single bite.
Etymology: terror or terrible (your choice) + tiramisu (an Italian dessert consisting of layers of sponge cake soaked in coffee and brandy or liqueur with powdered chocolate and mascarpone cheese)
Points: 509