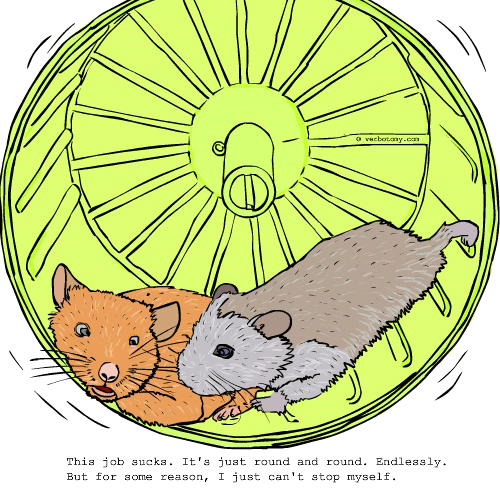 DEFINITION: n., A person who diligently and persistently complains about their work. v., To enjoy bellyaching about your job so much that you would never consider quitting.
Sisyfuss
Created by: artr
Pronunciation: sisəfəs
Sentence: John loves to sisyfuss about how he is overworked. He likes to complain about his co-workers. He enjoys kvetching so much that he started a number of Facebook groups; My boss is an idiot, work sucks, and Bitchers Anonymous. It*s one of the few things that get him out from under his rock. It gives him a sense of power he doesn*t get at work. He was practically giddy the day he ignored his boss*s friend request.
Etymology: Sisyphus (in Greek mythology - the son of Aeolus, punished in Hades for his misdeeds in life by being condemned to the eternal task of rolling a large stone to the top of a hill, from which it always rolled down again) fuss (a protest or dispute of a specified degree or kind)
Points: 419