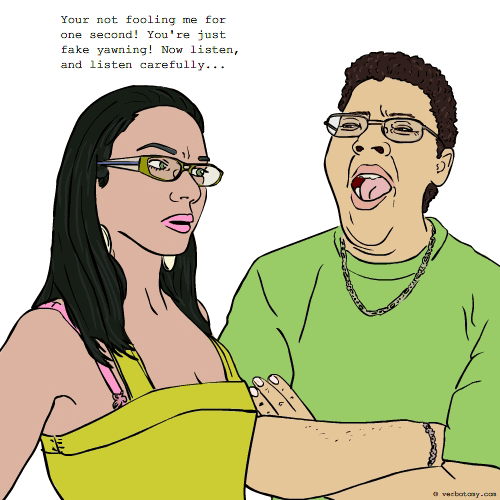 DEFINITION: v., To yawn or sigh repeatedly in an effort to subtly communicate one's lack of interest in the current conversation. n., A series of long, exasperated, and often escalating sighs indicating extreme boredom.
Moanologue
Pronunciation: MAH nuh log
Sentence: As Gabby, Jade*s officemate, continued to monopolize the conversation with every picayune detail of her recent trip to Florida, Jade increased the frequency and volume of her yawning and kept up a not-so-subtle moanologue. After about fifteen minutes of this, Gabby asked, "Are you OK? Sounds as though you are feeling bored and tired lately. I tell you, a trip to Florida might be just the thing for you. Let me tell you some more of the very interesting things I saw and did there!"
Etymology: moan + monologue
Points: 563