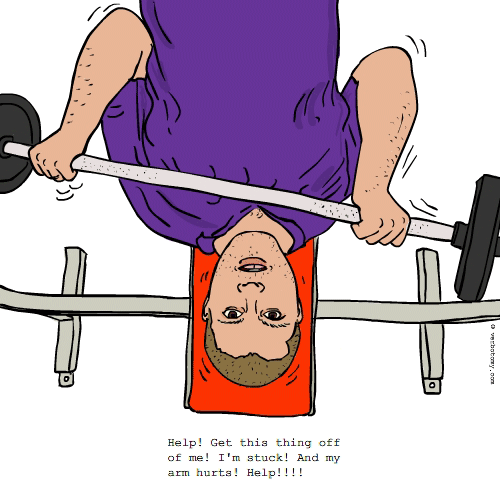 DEFINITION: v. To return to the gym in order to get back in shape, only to over-do-it and injure yourself. n. An injury which is the result of an overly ambitious exercise program.
Pwgymned
Pronunciation: [pind] or [pwind]
Sentence: Determined to defeat his winter love handles, Mark finally returned to the gym only to be pwgymned by the chest press machine for five minutes, like a gnat under a toothpick, while he waited for a trainer to rescue him.
Etymology: A combination of 'gym', a building or room designed and equipped for indoor exercise, and 'pwned', a corruption of the word 'owned' denoting domination by an opponent or situation, especially by some god-like or computer-like force. The combination sounds like 'pinned', meaning to hold something fast in a spot or position.
Points: 713