Verboticism: Vexmessaging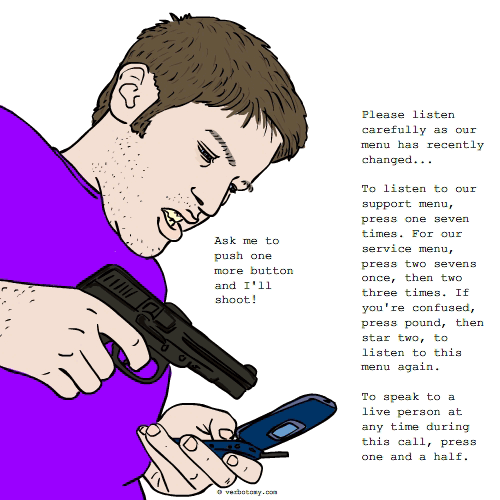 DEFINITION: v. To call a phone "help line" and spend 45 minutes pushing buttons and screaming at dumb voice-recognition system, before being automatically disconnected. n. A push-button or voice-activated phone menu system designed to irritate those who use it.
Vexmessaging
Pronunciation: vex mess ajing
Sentence: Vexmessaging is described as what used to be a 2 minute inquiry call to a company, greeted by a pleasant, real live person, which has been replaced with a very long battle with an automatronic simulated human voice which does not give you enough options to get an answer. Vexmessaging gives companies the statistics that say their complaints this year are fewer. It is only because no one can get through to anyone to complain!!! Your call is important to us... indeed!
Etymology: Vex (to irritate, annoy,disturb the peace of mind of; afflict with mental agitation or distress;cause annoyance in;especially by minor irritations or be a mystery or bewildering to) & Messaging (sending a message or receiving one)& rhymes with Text Messaging (how everyone under 30 communicates in abbreviated codes, by cell phone/blackberry or other computerized device...even if they are in the same room as those with whom they communicating!)
Points: 650